Hundreds rush to climb Uluru on final days before ban
24 October 2019, 16:30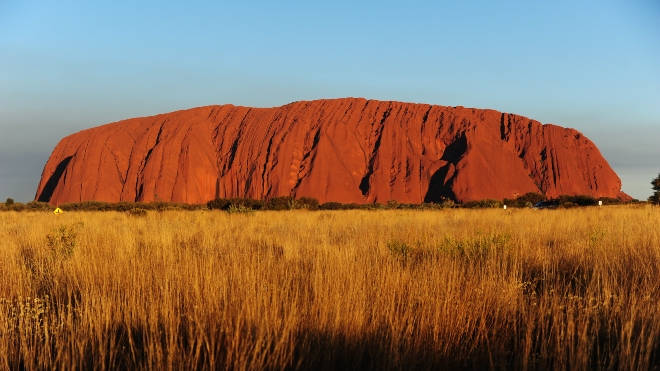 Hundreds of tourists have flocked to Uluru, also known as Ayers Rock, for their final chance to climb the sacred aboriginal site in the Australian Outback.
The iconic red monolith will finally be closed to climbers from Saturday 26 October onwards following the announcement of a ban in 2017.
For decades, hundreds of thousands of people have travelled far and wide for the opportunity to ascend one of Australia's most recognisable attractions deep in the desert.
However, due to the sacred nature of the giant rock which is owned by the Anangu people, who are the local indigenous custodians, climbing it will no longer be permitted.
Footage of people queuing up to take part in the final hike has emerged on social media, with park officials reporting a surge in visitor numbers.
Greg Elliot, the ranger in charge at Uluru, said "climb fever" had continued right up until the ban officially comes into place.
But with temperatures reaching a 40 degree high on Thursday, people were only allowed up from 7am to 8am.
Cooler weather is expected on Friday, with a milder 33 degrees expected, meaning the park will likely be left open all day.
Nearly 10,000 extra people on average have visited the Red Centre each month since the impending ban was announced, with many ignoring the sign at Uluru's base.
It reads: "We, the traditional Anangu owners, have this to say. Uluru is sacred in our culture, a place of great knowledge. Under our traditional law, climbing is not permitted. This is our home. Please don't climb."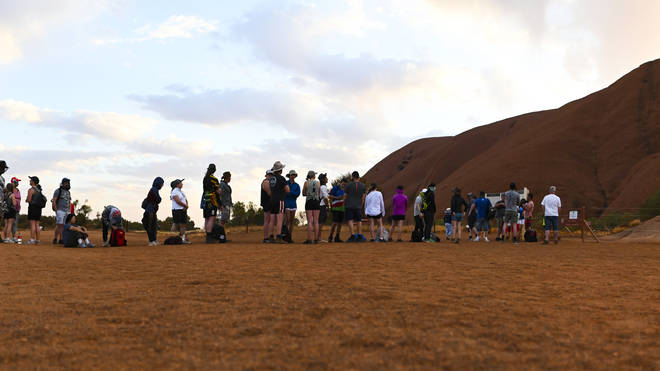 Work to remove all evidence of climbing ever being permitted will commence once the final person has descended.
This will include the takedown of signs near the 348-metre tall sandstone rock and the chain handhold, installed in 1964, that helps hikers on their way to the top.
In 2017, the Uluru Kata Tjuta National Park board decided to ban the climb, marking 35 years since the land title was given back to the Anangu People on 26 October 1985.
The site is of great spiritual significance to local Aboriginal groups, including the Pitjantjatjara Anangu traditional owners who live in Mutitjulu near the rock.
From 26 October 2019, the climb to the top of #Uluru will be permanently closed.

This significant decision represents the fulfilment of the long-held wishes of the park's traditional owners, #Anangu. pic.twitter.com/1H0yKDp0Fq

— ParksAustralia (@Parks_Australia) October 16, 2019
Central Land Council chair Sammy Wilson, an aboriginal man who lives in Mutitjulu, said the move to stop people walking up Uluru was welcome.
He said: "It is just a blip in the middle, this whole climb thing; it is going back to normal by banning the climb.
"It is an extremely important place, not a playground or theme park like Disneyland. If I travel to another country and there is a sacred site, an area of restricted access, I don't enter or climb it, I respect it..
He added: "Closing the climb is not something to feel upset about but a cause for celebration. Let's come together; let's close it together."
Indigenous musicians will play their part at a celebration of the ban on Sunday night.
However, the prohibition of climbing Ayers Rock has not been welcomed by all with Geologist Marc Hendrickx saying he would ignore the ban and walk up it regardless.