Two months of chaos: A timeline of Insulate Britain's disruptive protests
17 November 2021, 11:43 | Updated: 17 November 2021, 13:34
Eco group Insulate Britain have caused travel chaos across the country over the past two months. Here's a timeline of their demonstrations.
Monday 13 September
The group's first protest took place on Monday 13 September. They blocked multiple junctions of the M25. A total of 78 arrests were made, and it took police from five different forces two hours to clear the protesters.
Later that day they vowed to cause further disruption until the Government agreed to their demands.
Read more: 'Insulate Britain': 92 arrests after climate change protesters cause chaos on M25
Read more: M25 closure: Who are Insulate Britain and what were they protesting?
Wednesday 15 September
The second protest was also on the M25. Protesters blocked the M25 carriageway and a number of roundabouts. A total of 71 people were arrested, but police were criticised after being filmed offering to help protesters.
They told police they would return to the roads as soon as possible when they were released.
Furious drivers told LBC they would lose their jobs because they would be made late, and a four-car collision happened only a mile from the protest site.
Read more: Eco mob brings chaos to M25 as cars crash and drivers tell LBC 'we'll lose our jobs'
Friday 17 September
A total of 79 protesters attempted to block the M25 for the third time in a week. They targeted roundabouts and junctions.
Police were waiting for them but did not manage to intercept all of them, although they did shut down the protest much quicker than previous days. Protesters also poured paint onto the road, causing further disruption.
Read more: Police finally get tough on M25 eco mob and shut down latest protest within minutes
Read more: Eco protesters defend M25 disruption and tell critics to 'look at bigger picture'
Responding to Home Secretary Priti Patel, who called the protests "unacceptable", the group said: "What is unacceptable, is the deaths of eight and a half thousand people from fuel poverty. Also unacceptable, is the fact that Boris will not get on with the job of retrofitting UK's leaky homes."
There were many arrests at their third protest, but many were released the following day.
Sunday 19 September
The group wrote to the Highways Agency saying their protests would continue from the following Monday at 7am, and asked them to reduce the speed limit on the M25 to keep protesters safe.
Monday 20 September
In the group's fourth protest, M25 slip roads and the carriageway were blocked in several locations. Paint was also poured onto the road, and 41 people were arrested.
The group penned an open letter to Priti Patel asking her to agree to their demands. They issued an ultimatum - if the Government issued a "meaningful, public statement to insulate the housing stock of the UK by 9pm tonight", the group said, "disruption to the M25 network will cease".
Read more: M25 eco-mob issues ultimatum to government over disruption
Read more: PM insists M25 eco-protesters do not do 'any favours to their cause'
Tuesday 21 September
Both carriageways were blocked at J10 of the M25 and more paint was poured onto the road. A total of 38 people were arrested.
Witnessed by LBC, it was the first time the group blocked the actual carriageway of the motorway.
Read more: M25 protests: 38 arrested as cops warn activists are 'risking injury or death'
Wednesday 22 September
On the day a court granted an injunction to keep them off the M25, around 60 protesters spoke about their cause in front of the Home Office and burnt their police release papers.
Speaking on a loudspeaker at a protest in central London, one of the group said: "If I'm arrested at any time, at a convenient moment I will go out and I will continue to obstruct highways."
Read more: Eco mob vow more mayhem on the M25 hours after Priti threatened to lock them up
Friday 24 September
In their sixth protest, the group blocked the A20 at the Port of Dover. More than 40 protesters took part.
A total of 39 people were arrested, and it prompted a second injunction granted to National Highways, keeping protesters from occupying the A20 and strategic roads linked to the Port of Dover.
Angry motorists clashed with the activists who sat in front of lorries.
One woman said she was being stopped from getting to her granddaughter, while a man shouted: "We need insulating from you!"
Another said to the activists: "Do you realise that you're actually losing the cause because I would've supported you but I've got children that are supposed to be going to school... you've got no respect from me whatsoever – none."
A protester told LBC that demonstrating in Westminster wouldn't work as the police would move them on.
She said they were causing disruption to draw attention to what she called the Government's "inaction".
"True, it hasn't worked up til now but how long does it take for the Government to make a meaningful statement?" she told LBC.
"And we will continue - all the Government has to do is make a statement to accept this programme which we've put forward is a workable programme."
Read more: Man and woman arrested on suspicion of organising eco protests that caused mayhem on M25
Monday 27 September
The group returned to the M25 for the sixth time - their seventh protest overall.
This was the first protest that openly defied an injunction. 52 protesters attended, and the group later wrote a letter to Priti Patel saying they were "more fearful of the loss of our country than we are of you".
Read more: Eco protesters bring yet more chaos to the M25 in open defiance of Priti's threats of jail
Wednesday 29 September
The group blocked the M25 at J3 twice in one day. It was another breach of the injunction.
A spokesperson said: "We are going nowhere."
Eleven people were arrested at the first protest, and 16 at the second one.
Read more: Eco protesters defy jail threat and block M25 junction for second time on same day
Read more: 53 Insulate Britain eco-protesters released by police as govt slams 'guerrilla tactics'
Thursday 30 September
Insulate Britain blocked the M25 for the third time that week, this time targeting J30. The group said they were "raising the tempo this week" because of the lack of "meaningful response" from the Government.
Friday 1 October
This time the group branched out, blocking the M1 and the M4. There were around 30 protesters. In a press release the group said it was the tenth time they had blocked major roads - but in reality it was more than that.
Clashes between the public and protesters stepped up a notch, with videos showing a driver violently ripping posters away from campaigners.
Read more: Furious driver violently rips signs away from eco mob as they block M4 in latest protest
Monday 4 October
Two days after the Government took out another injunction, the group targeted other major routes around London, with 54 protesters blocking the Blackwall Tunnel - north and south - Hanger Lane and Wandsworth Bridge.
LBC witnessed a tearful woman pleading with the group at the Blackwall Tunnel, saying she was trying to follow her mum, who was being taken to hospital in an ambulance.
After branding the protesters "selfish" she later tried to reason with them, crouching where they gathered in the road and saying: "We all believe on what you're doing but i just need to get to my mum... everybody agrees with you."
The woman then asked protesters why they were there, to which one of the protesters replied: "No one is doing anything."
The woman responded: "But that's not my fault! And my mum is the one in an ambulance on the way to hospital!"
Police made 38 arrests across London.
Read more: Police make 38 arrests as eco protestors clash with motorists across London
The day before, Priti Patel promised six months imprisonment and unlimited fines for protesters.
Over the next few days, the group was criticised by various politicians at the Tory party conference, and by Sadiq Khan, who said they were going about it in the wrong way.
Read more: Eco-mob apologises for 'disruption' after PM calls them 'irresponsible crusties' on LBC
Read more: Children should become scientists instead of climate activists, says Tory MP
Friday 8 October
Approximately 40 protesters blocked the M25 at J25 and the A501, breaching the injunction again. They accuse Grant Shapps of "missing the point".
Read more: Eco mob target Old Street and M25 in latest disruptive rush hour protest
Read more: Traffic-blocking eco-mob are 'putting people off' climate issues, Sadiq tells LBC
LBC witnessed a furious mother hitting out at protesters for impeding her daughter's journey to school.
"My daughter is late to school," shouted the woman.
"You are messing with children's education because you are selfish."
Asked by an LBC reporter what she thought about the protesters, the female driver replied: "I think it's a disgrace, an absolute disgrace."
Transport for London took out a High Court injunction to ban Insulate Britain from obstructing traffic at 14 locations across London.
Meanwhile, a YouGov poll found the group's protests were opposed by almost 75 per cent of Brits, with just 18 per cent supporting them.
Read more: Eco-mob's M25 protests opposed by almost three quarters of Brits, YouGov poll finds
Read more: 'Glued fools': Transport Secretary hits out at 'dangerous' Insulate Britain protests
Wednesday 13 October
Around 40 people blocked the M25 near J31 and the A1090 near Dartford Crossing. Their press release from that day was titled "the Government should be in prison, not Insulate Britain".
LBC witnessed an enraged mother clashing with the group, demanding they move to let her take her son to school.
The woman's son can be seen standing out of the car and he exchanges words with protesters too.
"I don't care what the issue is, my son is 11, he needs to get to school today," the furious mother is seen shouting in LBC footage.
"So move out the way and let me get my son to school!"
Read more: 'Move - my son needs to go to school': Enraged mother clashes with eco protesters
Read more: Eco mob blocks road near Dartford Crossing as activists clash with furious drivers
A lorry driver also told LBC he had missed out on a job after being prevented from getting to an interview.
Thursday 14 October
The group pen an open letter to the Prime Minister Boris Johnson saying they will suspend their campaign until October 25, vowing to return then if no meaningful promise of action is made by the Government.
In the letter, Insulate Britain wrote: "Ahead of COP26, Insulate Britain will suspend its campaign of civil resistance until Monday 25th October.
"In light of the speech you made (to the UN on the 22nd September) in which you recognised that "We are approaching that critical turning point – in less than two months – when we must show that we are capable of learning, and maturing, and finally taking responsibility for the destruction we are inflicting, not just upon our planet but ourselves", we ask you to use this time to signal that you believe what you say."
Read more: Eco protesters to suspend blocking roads after drivers fight back
On October 24, the group vowed to return.
Monday 25 October
Their campaign restarted on Monday 25 October, with the group saying they were "gutted" that they had to return after the Government did not promise to meet their demands.
A total of 61 protesters blocked three locations across the City of London - Upper Thames Street, Bishopsgate and Limehouse Causeway.
Drivers reacted with fury, with police having to intervene to stop a motorist driving into protesters.
Wednesday 27 October
The group defied a super injunction to block the A40 in west London and a roundabout in Dartford.
Read more: Govt secures first nationwide injunction against 'reckless and disruptive' eco mob
Read more: Don't use the M25 because we want to protest on it, eco mob tells motorists
They said there had been 690 arrests so far.
At this protest, a member of the public sprayed protesters with ink whilst another played the bagpipes at them.
Later that day, seven protesters tried to get onto the M25, but they were intercepted by Kent Police.
Read more: Eco protesters tell court they feel 'bullied' as £900k cost of blockades is revealed
Friday 29 October
Protesters tried a different tactic, with 14 campaigners walking down the white lanes on the M25, forcing traffic to slow down but not stop.
Read more: Eco protesters wander down M25 towards oncoming traffic in latest demonstration
Read more: Party-goers 'terrify' Londoners as they dress up as Insulate Britain protesters on Halloween
Tuesday 2 November
The group branched out further, blocking major roads in Birmingham and Manchester as well as London.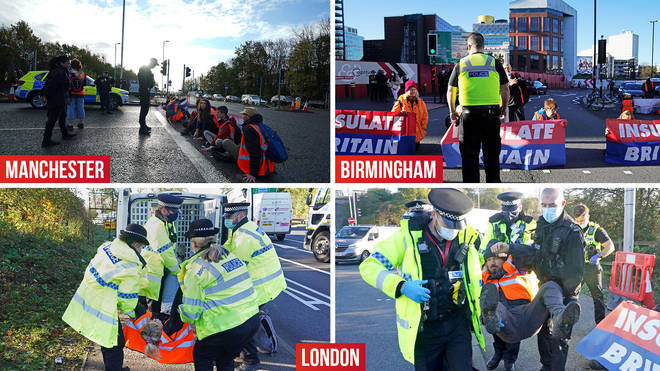 They blocked the M25 J23 in London, M56 J6 in Manchester and the A4400 in Birmingham.
Read more: Eco protesters go nationwide as they target three major cities during rush-hour
But police put a stop to the protest on the M25 before it got started, much to the relief of motorists.
Wednesday 3 November
Nine protesters were summoned to appear at the High Court on 16 November. The group said a further 23 are expected to be summoned in the coming days.
Thursday 4 November
A total of 62 protesters blocked roads near Parliament Square. Members of the public are getting increasingly annoyed, with one protester having their hand - which was glued to the road - stamped on.
A total of 59 arrests were made, and police defended their handling of the protests.
Read more: Met Police: We can't just 'yank' glued protesters off the ground
Tuesday 16 November
Nine protesters appeared at the High Court. They told LBC they are "terrified" and are expecting jail time.
Read more: 'Put me in prison or I'll block the motorway again' boasts defiant eco protester
Wednesday 17 November
The nine are sentenced to jail. Six were jailed for four months, two for three, and one for six.
Read more: Eco protesters jailed for defying High Court injunction on M25