As it happened: Ukraine applies for EU membership as peace talks end
28 February 2022, 09:25 | Updated: 28 February 2022, 23:33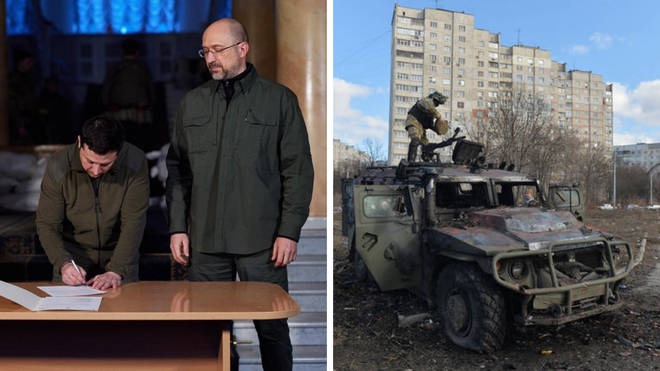 Ukraine has officially requested to become a member of the European Union, as the country's first peace talk with Russia concluded with no significant breakthroughs.
The Prime Minister of Ukraine, Denys Shmyhal, shared the announcement on Twitter.
"President @ZelenskyyUA signed #EU membership application for #Ukraine," he wrote.
He said it was the choice of the Ukrainian people, and added: "We more than deserve it."
In other developments, Shell has cut its ties with Russian gas firm Gazprom and FIFA and UEFA have banned Russia from participating in all competitions.
Read more: Putin's nuclear threat is 'rhetoric', says Defence Sec
Read more: Defence sec clashes with Liz Truss as he tells untrained Brits not to fight in Ukraine
Follow the latest developments in our live blog below
Happening Now