Maajid Nawaz: The Labour Party Is Now Institutionally Racist
1 September 2018, 14:09 | Updated: 8 September 2018, 07:42
Maajid Nawaz delivers a damning explanation as to why he believes the Labour Party can now be considered institutionally racist.
"Forgive me for saying that it's one thing after another with Corbyn... But all of this stuff starts to pile up," Maajid starts.
The LBC presenter has already expressed his frustration at Jeremy Corbyn's handling of the anti-semitism row, describing him as "not fit for office" and "wilfully ignorant" in the past.
But Maajid took a damning swipe at the party.
"If I started to build a record, if I started to build some form of documentation for a right- wing politician that had been accused of similar flirtations with racism but towards, for example, somebody that looked like me instead of somebody that looked like a Jew, I suspect the left would take all of this mounting evidence and say that right-wing politician is a racist.
"In fact I don't suspect it, I'm pretty well darn sure of it."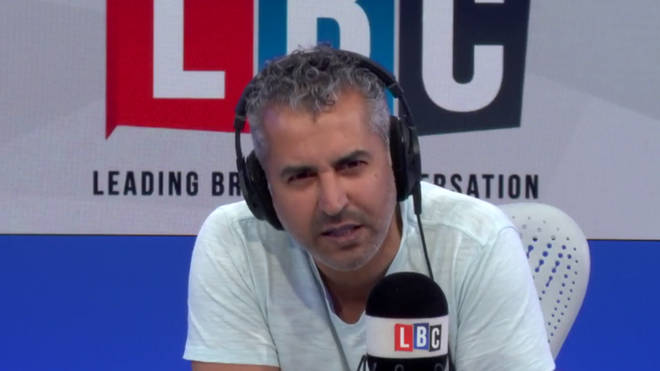 "With now what is essentially a mountain of evidence against Jeremy Corbyn, those same voices are refusing to accept that an atmosphere of racism has emerged inside the Labour Party," he said.
"I stand by this, and I know my race history in this country, the Labour Party is now institutionally racist.
"Now that doesn't mean every single member of the Labour Party is racist, it certainly doesn't mean everybody who votes for Labour is a racist, just like it didn't mean every single police member was racist when the official government report said that the police forces were institutionally racist.
"They weren't describing every single police man and woman as being a racist. What they were describing was structural racism within the British police forces.
"What with momentums takeover of the National Executive Council of the Labour Party and what with Jeremy Corbyn's stance on the definition of anti-semitism and the mountain of evidence of the leadership in the Labour party in the way they treat MPs who complain about it, I am left with the inescapable conclusion, which is a deeply regrettable thing for me to say.
"Considering I've never voted Conservative in my life, considering I grew up in a culture of anti-racism, considering that I have literally fought street battles with neo-nazis have attempted to hit me with hammers, it's with deep regret that I believe that the Labour Party is now institutionally racist."