Things Kicked Off When This Caller Accused Maajid Of Pushing Propaganda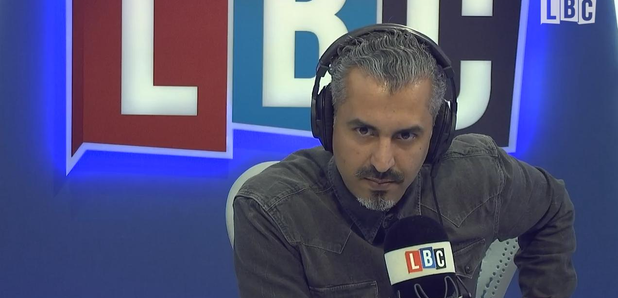 Things got fiery when a caller claimed Maajid Nawaz was pushing his own 'propaganda' during a conversation about Russia.
Maajid received a call from Lee in Enfield while he was talking about the 'propaganda war waged by Russia', and the pair soon went head-to-head in a heated discussion.
The caller wanted to speak to Maajid specifically about hacking and accused him of going off topic.
Maajid hit back: "Did you hear the introduction to this show?
"The question for the show is: 'Cyber hacking, infiltration and fake news. We're losing a propaganda war waged by Russia, how should we fight back?' so don't tell me what I'm talking about on my own show."
Lee had earlier claimed he thought the BBC was run by the state and the call soon took a personal turn when he said: "I wanted to actually speak to you about the hacking and you haven't let me.
"I think you've kind of really, you know, exposed yourself as the propaganda you're pushing today."
Maajid responded: "Don't try and come on this show to try and gain followers and listeners. The truth is that only people who make excuses for dictatorships could ever claim that the BBC is the same as Russian state-owned media."