'It's time to stand with Charlie Hebdo' - Maajid Nawaz's passionate monologue
2 September 2020, 15:59 | Updated: 2 September 2020, 16:10
This is Maajid Nawaz's powerful monologue on free speech and the Charlie Hebdo magazine which ended with him urging people to "stand with" those who were murdered.
As 13 people go on trial in Paris over the attacks on the French satirical magazine Charlie Hebdo Maajid Nawaz gave a passionate monologue on free speech.
Maajid was quick to point out that in the French tradition "political satire and mockery of religion is part of the national culture."
He told LBC listeners the "idea that somehow the Charlie Hebdo magazine was only picking all Muslims is absolutely and totally wrong. For anybody that's looked at the magazine and its history or knows anybody that used to work there. As I do."
The LBC presenter told a story of how he had previously tweeted, an image that was put out by some LSE students of a cartoon strip called J and Mo which caused uproar.
Maajid said "it came down to whether as a Muslim I had the right to ask my fellow Muslims to stop killing people. Over blasphemy."
After telling a personal story over issues concerning blasphemy in Muslim countries the LBC presenter said for anyone to "take a view on this blasphemy thing that is other than a free speech position, even as a Muslim as I am, is morally bankrupt to take any other position."
Passionately Maajid said it was a" separate conversation to whether Charlie Hebdo should republish the cartoons now or not."
Adding it did "contextualise that conversation to remind everybody just what is at stake here. This isn't a petty debate.
"This isn't people trying to just stick it to Muslims and annoy us for the sake of it. There is a deeper principle at play here, the kind of principle that led to Galileo eventually, in the long arc of history trial, triumphing over the small petty-minded fundamentalists who said his science was blasphemy."
Maajid's monologue comes as the French satirical paper whose Paris offices were attacked by Islamic extremists in 2015 has reprinted caricatures of the Prophet Mohammed cited by the gunmen who opened fire on its editorial staff.
Thirteen men and a woman have gone on trial over the attacks against in Paris that sparked a wave of violence by the so-called Islamic State group in Europe.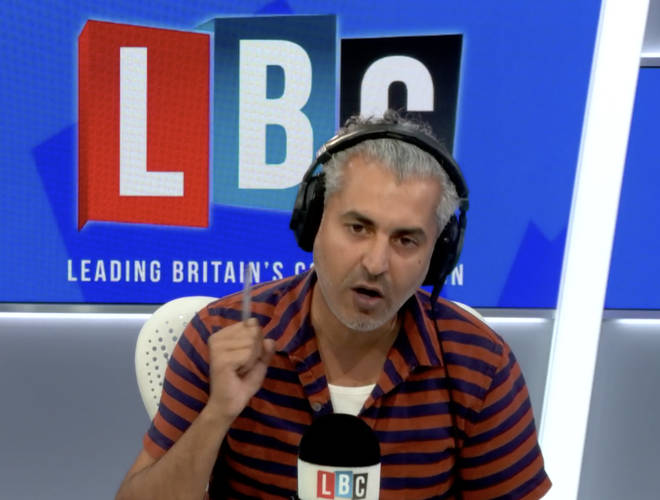 Maajid said what Charlie Hebdo are doing is "a point of principle," adding "on a point of principle, to say we will not cower, we will not back down. It is our right to speak our minds."
He added that "cartoons do not kill people, cartoons don't even hurt you," adding "you have every right to be offended, but you have no right to insist that I do not offend you. I'll say that again. You have every right to be offended. And I feel for you if you are because actually, it's quite weird. But I still feel for you."
Maajid said now was not the time "to criticise the Charlie Hebdo magazine, The time now is to stand with them because they were murdered for speaking their minds."
Watch the whole interesting and impassioned call in the video at the top of the page.