Maajid Nawaz To Jeremy Hunt: "Do You Think Us Stupid?"
11 February 2017, 14:14 | Updated: 11 February 2017, 17:07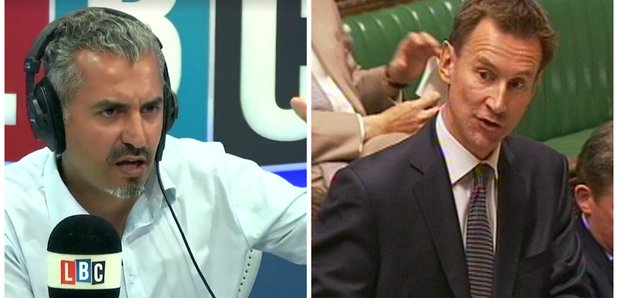 Health Secretary Jeremy Hunt admitted this week that the state of the NHS is "completely unacceptable" and Maajid Nawaz has a message for him.
The Health Secretary Jeremy Hunt said this week that there was "no excuse" for problems with the NHS.
Maajid Nawaz has a message for him following Mr Hunt's admission.
The LBC Presenter said: "If you're telling us there's no excuse, if you're telling us i t's unacceptable, where the health service has reached today, then why do you think you deserve to be in that position?
"Do you think us stupid? Do you think that we can't see what's going on? If the health service is deteriorating under your watch, and I'm not saying it wasn't deteriorating before your watch, but if it continues to slide, if you haven't managed to halt this slide in our social care and health service, then what are you doing?
"You've got a majority in parliament, nobody standing in your way, your policies can't be blocked by an unruly opposition. We've just heard in the last hour how Jeremy Corbyn is failing to provide you any effective opposition.
"If fact, you have a 16 point lead over Labour, and Corbyn has a 60 per cent unfavourable rating, what is stopping you Mr Jeremy Hunt? What is stopping you from fixing our health service?
"You have no effective opposition to speak of, what's standing in your way. Why are you failing? Making statements like "there's no excuse for this failure", well yes, there's no excuse for this failure and you're the one responsible for it. What are you still doing there?"