Maajid Nawaz's Powerful Response To Jewish Woman Considering Fleeing The UK
29 September 2017, 08:21 | Updated: 29 September 2017, 09:25
The daughter of a Holocaust survivor told Maajid Nawaz that she is considering leaving Britain due to the rise in anti-Semitism.
The Labour Party Conference was dogged by more allegations of anti-Semitism, with one speaker saying they should have a debate on whether the Holocaust actually happened, while another compared supporters of Israel to Nazis.
Last night, the Labour Friends of Palestine suggest a "final solution" to the Middle East problems - a reference to a Nazi code name for the plan to murder all Jews during World War Two.
Yoshi called Maajid to say that she was considering taking her family back to Israel to escape the increasing problems.
But he urged her to stay and said he would stand shoulder-to-shoulder with her.
He said: "I want to say to Yoshi and every other British Jew and European Jew out there, please do not leave your countries. This is your home. You belong here more than the Nazis do, you belong here more than the far left extremists do and you belong here more than the Islamist theocrats do.
"And there are thousands of us, thousands of us, who will stand with you to make sure that you are not hounded from your homes and made to feel scared in your neighbourhoods.
"And there are thousands of us who remember that what it means to be a true patriot, as it was the case in World War Two, is to fight the Nazis and not to apologise for them. And to fight the racists and the anti-semites are not to apologise for them or to make excuses for them or to obfuscate.
"And that's what it means to be a true Brit. It's to fight this racism wherever we see it and stand up to it."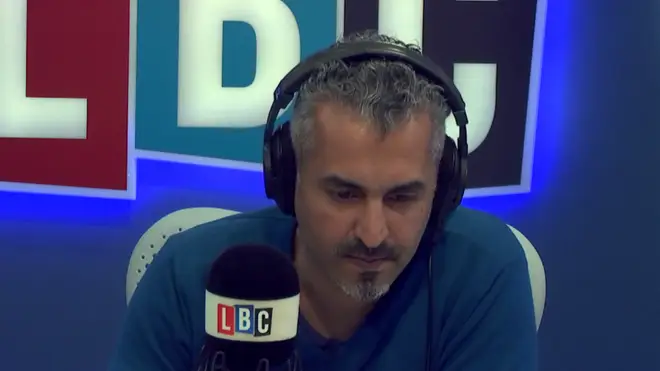 Yoshi had told him: "I'm a Holocaust survivor's daughter. My dad is not alive anymore, but I do believe that he's turning in his grave if you know he can see what is happening in Europe and in the UK.
"I have discussed it with my family and we are considering moving to Israel.
"we're scared. We are scared everyone we know is scared."