Maajid Shuts Down Muslim Caller Who Claimed He's Anti-Islam
8 July 2017, 15:44 | Updated: 8 July 2017, 16:44
This caller tried to tell Maajid Nawaz he was anti-Islam - he wasn't having any of it.
This angry caller phoned up Maajid Nawaz and claimed he's anti-Islam because the LBC Presenter wants reform.
But Maajid swiftly shut him down.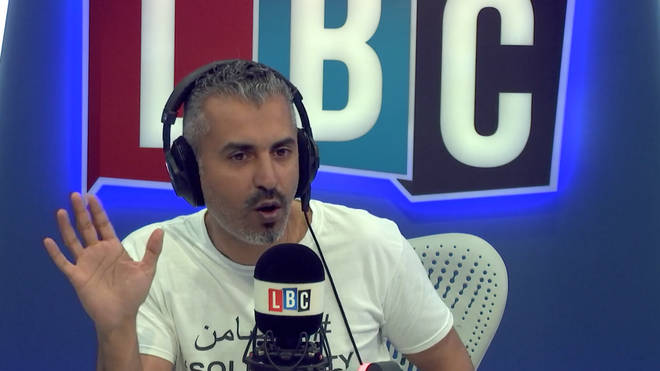 The caller, Kamaz, first said to Maajid: "Islam has to defend itself from people like you spreading their propaganda and pushing their agenda, calling Islam bad and so on. Why are you always pushing your agenda against Islam?"
Maajid Nawaz hit back: "When did you stop hitting your wife?"
The caller said he doesn't beat his wife and continued a to and fro with Maajid, outraged.
Maajid added: "Do you get what I'm doing to you, Kamaz? Do you get what I'm doing? It's known as erecting a straw man, a straw man argument.
"It's basically when you're question assumes a guilt within the question. That's what you've just done to me."
The LBC Presenter went on: "I don't accept the premise of your question, because I criticise Islamist theocracy. That is, in one sentence, the desire to impose any version of Islam over society as a political project. That's what I criticise."
The conversation continued to get heated, with the caller saying: "You say you're Muslim, but I don't think you're Muslim."
Maajid said: "What you've done there is exactly what extremists do. You've decided I'm not a Muslim because you don't agree with me."
Kamaz said: "Yeah, because you want to change Islam."
Maajid agreed, saying: "Yeah, yeah, I want a reform."
The LBC Presenter wasn't finished, and proceeded to shut down the caller.