Maajid Nawaz Slams Vegan Protester For Showing Graphic Images To 4-Year-Old
4 November 2018, 12:55 | Updated: 20 November 2018, 14:29
Maajid Nawaz gets angry at a vegan protester who said she would show rape and beheadings to a 4-year-old.
Maajid Nawaz was disgusted when he saw a 4-year-old girl break down in tears after seeing graphic images at a vegan protest in Leicester Square.
But he didn't hold back when one of the protesters called into his LBC show to defend the cause.
He said: "I have witnessed torture in the dungeons of Egypt. Does that entitle me to subject a 4-year-old child to scenes of torture of human beings being tortured to death in the more gruesome of ways with blood splattered everywhere in those images just to teach that child that it's wrong to do that?"
Rebecca replied: "I think everyone should be able to witness every atrocity going on in the world to have their own viewpoint."
"Even a 4-year-old child?" he asked.
"Absolutely," she said.
"So you'd be okay with showing 4-year-old children scenes of rape and beheadings?"
"I personally actually would."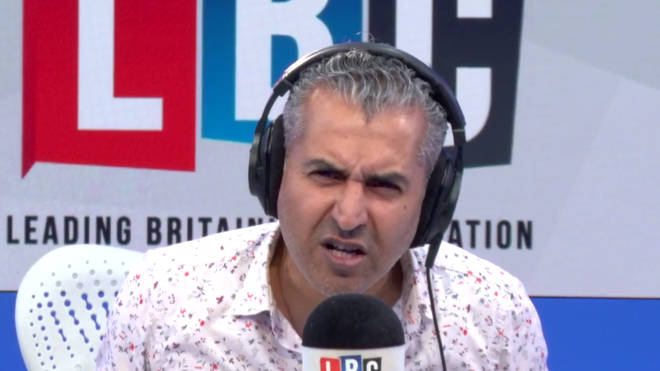 The row comes after some farmers warn that they are being targeted by "frightening" vegan 'militant groups', and protests outside shops and restaurants holding graphic images of meat production.
Maajid witnessed a protest in Leicester Square, where he saw a 4-year-old girl burst into tears after catching eye of one of the pictures.