Maajid Nawaz Calls Out John McDonnell After Jacob Rees-Mogg Fracas
3 February 2018, 14:14 | Updated: 3 February 2018, 15:01
Maajid Nawaz gave the shadow chancellor a slow clap after masked protesters attempted to shut down a university speech by Jacob Rees-Mogg.
The LBC presenter played an archive clip of John McDonnell in which he told a rally: "I want to be in a situation where no Tory MP… can travel anywhere in the country or show their face anywhere in public without being challenged by direct action".
The audio has resurfaced after Mr Rees-Mogg stepped in to stop a scuffle which occurred when demonstrators stormed a debate at the University of Western England on Friday.
The protesters were filmed shouting "racist", "facist" and "Nazi".
Giving his take, Maajid said last night's scenes were further evidence the hard-left were becoming as bad as the far-right.
He said: "[John McDonnell] wants to see a situation in the country where no Tory MP can travel anywhere in the country without direct action and without being directly challenged.
"Well congratulations Mr McDonnell you've got the situation in the country that you so desired.
"We've ended up in a scenario where people can no longer speak their minds from fear of violence and that cannot be good for our democracy, it cannot be good for the diversity of opinion that allows us to question dogma and to challenge orthodoxy."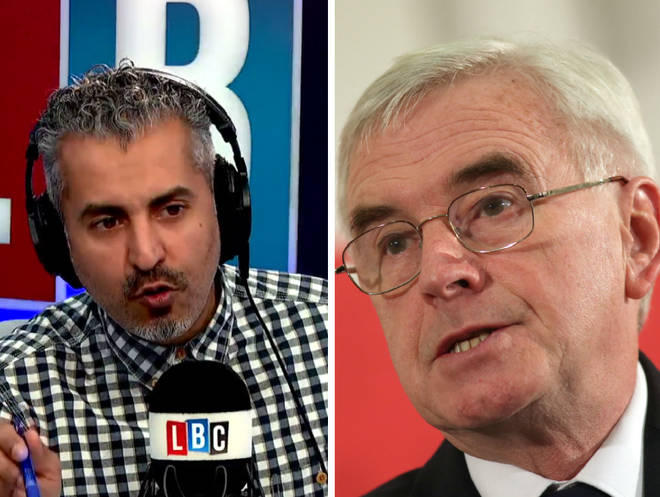 He added: "What John McDonnell said just there what you heard on the audio is so dangerous because by stifling debate, by intimidating people and silencing opposition you're not striking a blow at the Conservatives.
"I've never voted Tory in my life I repeat that often because people assume I'm defending the Conservative Party - I'm not defending Jacob Rees-Mogg, I'm not defending the Conservative Party.
"What you're doing isn't striking a blow at the Conservative Party and you're certainly not striking a blow at Jacob Rees-Mogg just see how he's all over the media today, it backfired on you the blow your striking is against our very democracy.
"You are injuring and harming our freedom of speech and our democracy you are there by weakening the strength of this nation rather than ensuring that we continue to survive."