Salman Rushdie receives first-ever Lifetime Disturbing the Peace Award
15 November 2023, 08:04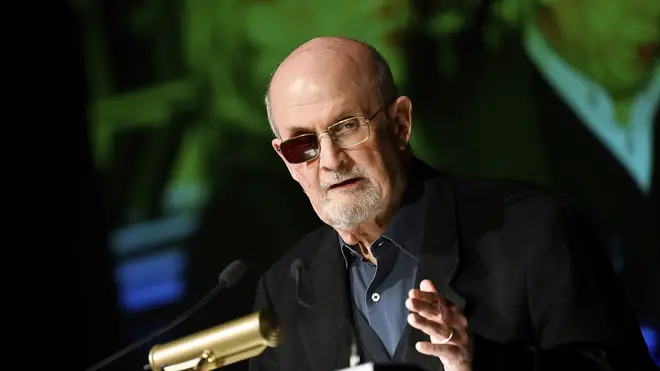 The Satanic Verses author accepted the award in person in New York City.
The latest honour for writer Sir Salman Rushdie was a prize kept secret until minutes before he rose from his seat to accept it in New York City.
On Tuesday night, the Satanic Verses author received the first-ever Lifetime Disturbing the Peace Award, presented by the Vaclav Havel Centre on Manhattan's Upper East Side.
Only a handful of the more than 100 attendees had advance notice about Sir Salman, whose whereabouts have largely been withheld from the general public since he was stabbed repeatedly in August 2022 during a literary festival in Western New York.
"I apologise for being a mystery guest," Sir Salman said on Tuesday night, after being introduced by Reading Lolita In Tehran author Azar Nafisi.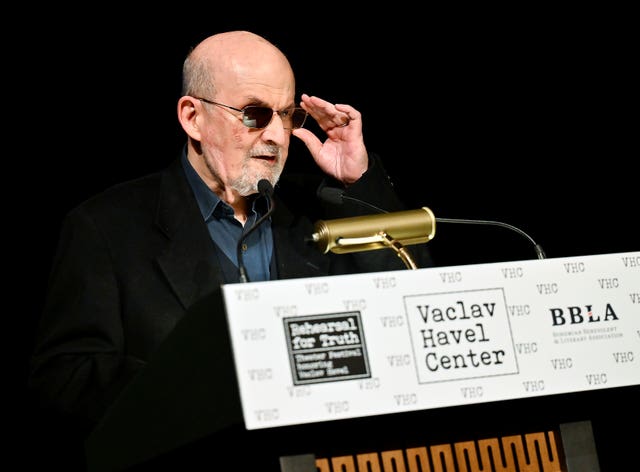 "I don't feel at all mysterious. But it made life a little simpler."
The Havel Centre, founded in 2012 as the Vaclav Havel Library Foundation, is named after the Czech playwright and dissident who became the last president of Czechoslovakia after the fall of the Communist regime in the late 1980s.
The centre has a mission to advance the legacy of Mr Havel, who died in 2011 and was known for championing human rights and free expression.
Numerous writers and diplomats attended Tuesday's ceremony, hosted by CBS journalist Lesley Stahl.
Alaa Abdel-Fattah, the imprisoned Egyptian activist, was given the Disturbing the Peace Award to a Courageous Writer at Risk.
His aunt, the acclaimed author and translator Adhaf Soueif, accepted on his behalf and said he was aware of the prize.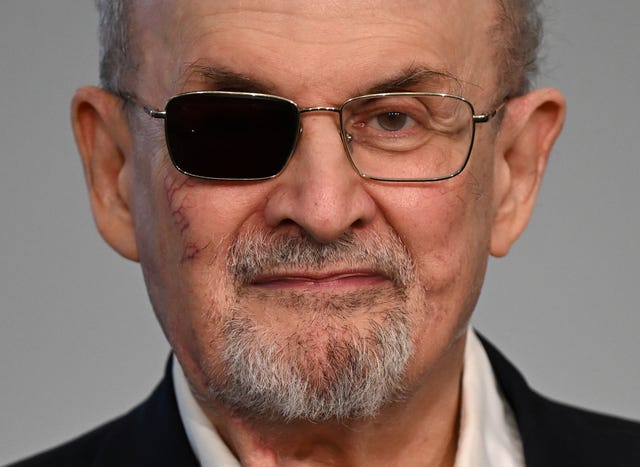 "He's very grateful," she said. "He was particularly pleased by the name of the award, 'Disturbing the Peace'. This really tickled him."
Mr Abdel-Fattah, who turns 42 later this week, became known internationally during the 2011 pro-democracy uprisings in the Middle East that drove out Egyptian President Hosni Mubarak.
He has since been imprisoned several times under the presidency of Abdel-Fattah el-Sissi, making him a symbol for many of the country's continued autocratic rule.
Sir Salman, 76, noted that last month he had received the Peace Prize of the German Book Trade, and now was getting a prize for disturbing the peace, leaving him wondering which side of "the fence" he was on.
He spent much of his speech praising Mr Havel, a close friend whom he remembered as being among the first government leaders to defend him after the novelist was driven into hiding by Ayatollah Ruhollah Khomeini's 1989 decree calling for his death over the alleged blasphemy of The Satanic Verses.
Sir Salman said Mr Havel was "kind of a hero of mine" who was "able to be an artist at the same time as being an activist."
"He was inspirational to me as for many, many writers, and to receive an award in his name is a great honour," Sir Salman added.