Coronavirus declared pandemic by World Health Organisation
11 March 2020, 18:37
The killer coronavirus outbreak that has claimed lives in countries around the world has been declared a pandemic by the World Health Organisation.
Director-General of the World Health Organization Tedros Adhanom Ghebreyesus said: "We have never before seen a pandemic sparked by a coronavirus.
"And we have never before seen a pandemic that can be controlled at the same time.
"WHO has been in full response mode since we were notified of the first cases.
"Pandemic is not a word to use lightly or carelessly.
"It is a word that, if misused, can cause unreasonable fear, or unjustified acceptance that the fight is over, leading to unnecessary suffering and death."
"WHO has been assessing this outbreak around the clock and we are deeply concerned both by the alarming levels of spread and severity, and by the alarming levels of inaction."
Dr Ghebreyesus also appealed to affected countries to "detect, test, treat, isolate, trace and mobilise" to prevent the Covid-19 outbreak worsening.
"We cannot say this loudly enough or clearly enough or often enough: all countries can still change the course of this pandemic.
"If countries detect, test, treat, isolate, trace, and mobilise their people in their response, those with a handful of cases can prevent those cases becoming clusters and those clusters becoming community transmission."
Read More: What is a pandemic and what happens during one?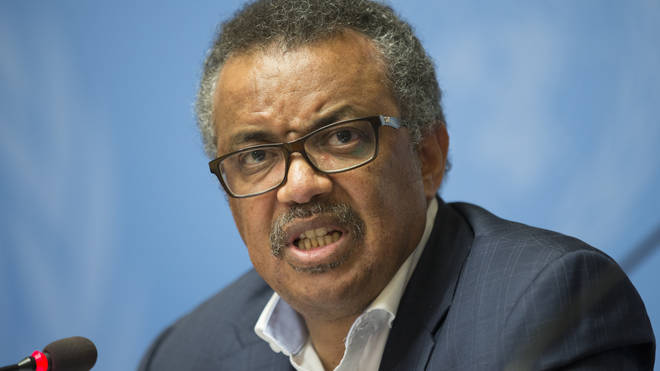 The global death toll for the coronavirus currently stands at 4,291, including eight people in the UK.
118,000 people have also been diagnosed with the disease.
Another British man who was on board the coronavirus-stricken cruise ship the Diamond Princess has also died in Japan.
It was also announced earlier today that a British woman in her fifties has also died from virus whilst in Bali, Indonesia.
Just minutes after the WHO announced Covid-19 was a pandemic, Italy - which has the second highest number of cases of any country - announced the death toll had gone from 631 to 827, with cases now reaching 12,462.
Today, Ireland registered its first death from the disease, and a further four people tested positive in Wales for coronavirus, bringing the total of Welsh cases to 19.
The numbers are continuing to rise, and cases outside China have now increased 13-fold over the past two weeks.
In total, 114 countries have now reported cases of Covid-19.
Dr Tedros continued: "Thousands more are fighting for their lives in hospitals.
"In the days and weeks ahead, we expect to see the number of Covid-19 cases, the number of deaths, and the number of affected countries climb even higher."