Justin Trudeau's Liberals win Canadian election but lose majority
22 October 2019, 10:12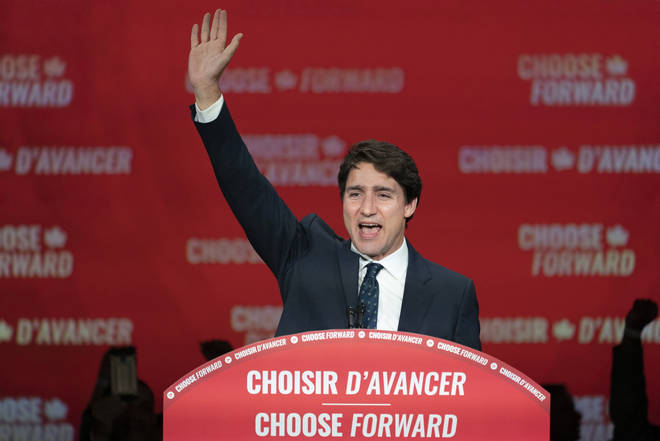 Justin Trudeau won a second term as Canada's Prime Minister but lost his majority following a scandal-hit election campaign.
The Canadian Prime Minister's Liberal Party has held on to power in a narrow election win and will now head a minority government.
His party is projected to win 157 seats which is 13 short of a majority, meaning passing legislation will become more difficult for the leader.
The liberal icon had his progressive image tarnished in the build up to the vote after several images emerged of him dressed up in blackface.
He was also hurt by a scandal this year when his former attorney general said he pressured her to halt the prosecution of a Quebec company, to which he responded saying he was standing up for jobs.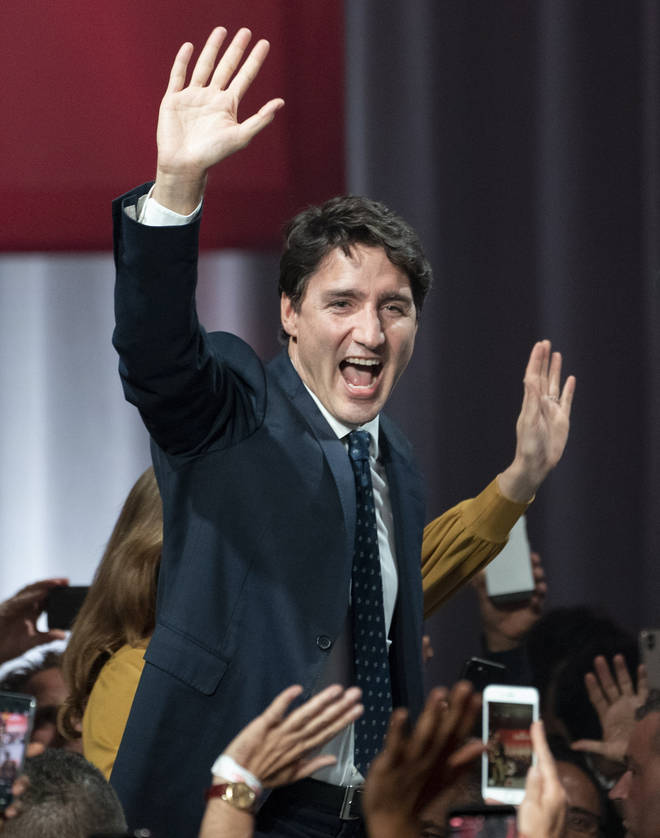 Opposition Conservatives are predicted to win an extra 27 seats, taking them to 122, as well as the popular vote. However, they were unable to turn those into enough MPs.
Canada's left-leaning New Democratic Party, led by Jagmeet Singh, lost representatives in the 338-seat Parliament but could hold the key to Mr Trudeau forming a coalition government with 24 seats projected.
Quebec's French-speaking separatists, the Bloc Quebecois, had a strong night despite just competing in that province with 32 MPs expected to take their place in Parliament, up from 10 in 2015.
The voter turnout currently stands at around 65 per cent.
He addressed cheering supporters in Montreal, telling them: "You did it my friends. Congratulations.
"Thank you for having faith in us to move our country in the right direction."
He promised the country he would govern for everyone in an attempt to reassure those who did not vote for him.
Thank you, Canada, for putting your trust in our team and for having faith in us to move this country in the right direction. Regardless of how you cast your vote, our team will work hard for all Canadians.

— Justin Trudeau (@JustinTrudeau) October 22, 2019
The federal election was seen as a referendum on the prime minister's popularity following a tumultuous first term in office, but the narrow result win be even more disappointing for Conservative leader Andrew Scheer.
Robert Bothwell, a professor of Canadian history and international relations at the University of Toronto, said the decline in seats was not all down to the leader.
He said: "Trudeau is prime minister because the rest of the party was able to pull itself together and prevail. While Trudeau certainly deserves credit for what has happened he's really going to have to demonstrate qualities that he hasn't yet shown."
As well as scandals, the narrow victory is seen to be down to the Canadian PM failing to deliver on a number of significant progressive pledges.
For example, he supported the expansion of the Trans Mountain oil pipeline project despite standing on a greener manifesto.
He was also quick to abandon electoral reform to the federal system which angered those on the left who were hoping to see the implementation of an alternative voting system.
However, despite these pledge shifts Mr Trudeau has been able to keep 92 per cent of his promises which is the most by any Canadian government in 35 years, according to an independent assessment by 24 Canadian academics.
US President Donald Trump sent his well-wishes to the re-elected prime minister.
Congratulations to @JustinTrudeau on a wonderful and hard fought victory. Canada is well served. I look forward to working with you toward the betterment of both of our countries!

— Donald J. Trump (@realDonaldTrump) October 22, 2019
He tweeted: "Congratulations to Justin Trudeau on a wonderful and hard fought victory. Canada is well served. I look forward to working with you toward the betterment of both of our countries!"
Conservative leader Mr Scheer spoke of his immense pride of his party, saying: "Let's remember this feeling, coming close but falling just short."
Minority governments are not a rarity in Canada, there have been three in the past 15 years, however coalitions are less common and was last attempted in 2008.