Hong Kong: Fresh protests break out after face mask ban
4 October 2019, 19:02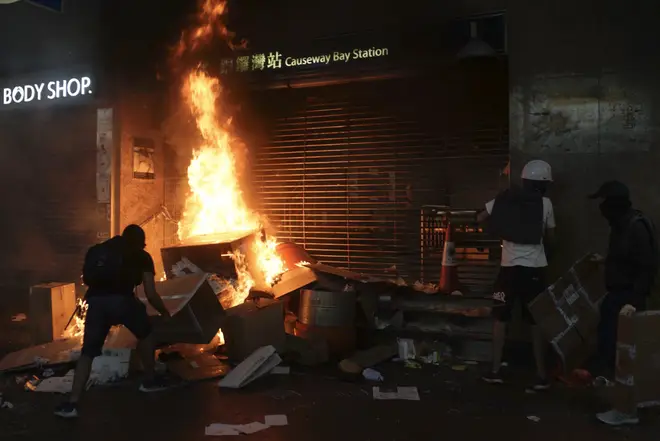 Violence has broken out again in Hong Kong hours after it was announced that protesters will be banned from wearing face masks.
Thousands of protesters have crammed into streets to challenge the ban, shouting "Hong Kong people, resist".
Earlier today Hong Kong leader Carrie Lam invoked rarely used emergency powers to ban face masks at rallies.
Reports on Friday said a 14-year-old boy had been shot in the leg.
He is reportedly being treated at Tuen Mun hospital and is in a serious condition.
It is believed that he was shot in the left thigh and has been transferred from Pok Oi Hospital to Tuen Mun Hospital.
It is unclear whether the teenager was shot with a live round or a rubber bullet, and whether it was fired by the police or someone else.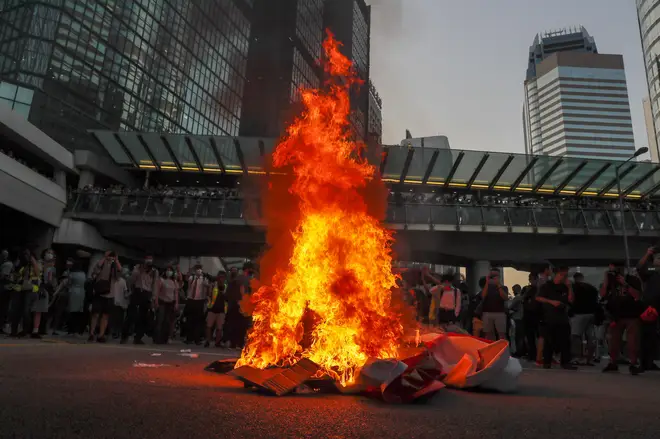 The incident and the ban come after an escalation of violence during protests on 1 October, when an officer shot an 18-year-old student has been shot in the chest.
Introducing the face mask ban, Ms Lam introduced said Hong Kong faced "extensive and very serious danger" but stressed it was not under a state of emergency.
She said she would go to the legislature later to get legal backing for the rule.
"People are asking can Hong Kong go back to normal? Is Hong Kong still a place where we can have our sweet home?" she said as she announced the ban.
"We must stop the violence. Now, it's all over Hong Kong."
Anyone breaking the mask ban could be jailed for a year or fined.
Thousands of masked protesters marched in the city's business district before Carrie Lam spoke. They chanted "I want to wear face masks" and "Wearing a mask is not a crime".