Russian jailed for seven years after swapping price tags for anti-war slogans
16 November 2023, 14:34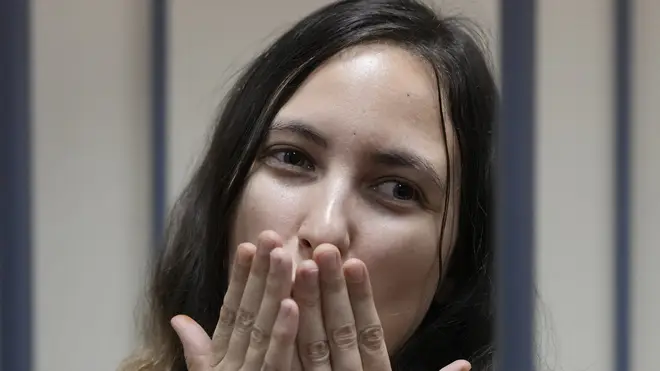 Russia adopted a law effectively criminalising any public expression about the war in Ukraine that deviates from the Kremlin's official line.
A Russian artist and musician has been jailed for seven years for replacing supermarket price tags with anti-war slogans.
Sasha Skochilenko has been detained in her home city of St Petersburg since April 2022 on charges of spreading false information about the military.
"The Russian army bombed an arts schools in Mariupol. Some 400 people were hiding in it from the shelling," one read. Another said: "Russian conscripts are being sent to Ukraine. Lives of our children are the price of this war."
A customer at the supermarket who found the slogans reported them to authorities.
She was arrested a month after Russia adopted a law effectively criminalising any public expression about the war in Ukraine that deviates from the Kremlin's official line.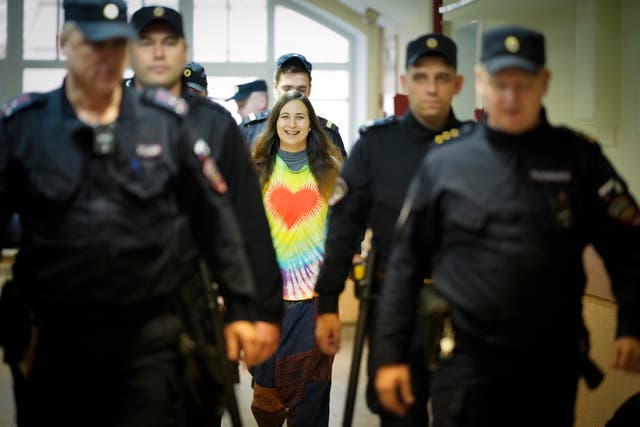 The legislation has been used in a widespread crackdown on opposition politicians, human rights activists and ordinary Russians critical of the Kremlin, with many receiving lengthy prison terms.
Skochilenko has not denied replacing the price tags but rejected the accusation of spreading knowingly false information.
She did not intend to disparage the military but rather wanted to stop the fighting, her lawyer Yana Nepovinnova told The Associated Press last week.
"She is a very empathetic, peace-loving person. To her, in general, the word 'war' is the most terrible thing imaginable, as is the suffering of people," Ms Nepovinnova said.
Russian independent news site Mediazona quoted Ms Skochilenko as saying in her final statement in court that the case against her was "weird and ridiculous" — so much so that officials in the facility where she is detained "open their eyes widely and exclaim: 'Is this really what people are being imprisoned for now?'"
She also alleged that an investigator working on her case even quit his job, telling one of her lawyers that he "didn't join the Investigative Committee to work on cases like (the one) against Sasha Skochilenko".
Addressing the judge in a courtroom full of supporters, Ms Skochilenko said: "Everyone sees and knows that it's not a terrorist you're trying. You're not trying an extremist. You're not trying a political activist, either. You're trying a pacifist."
Her supporters applauded, Mediazona reported, adding that after the verdict was announced and Ms Skochilenko was led away, they gathered in a hallway, chanting her name.
The 33-year-old has struggled during her 19 months in pre-trial detention due to several health problems, including a congenital heart defect, bipolar disorder and coeliac disease, requiring a gluten-free diet, her lawyers and her partner said.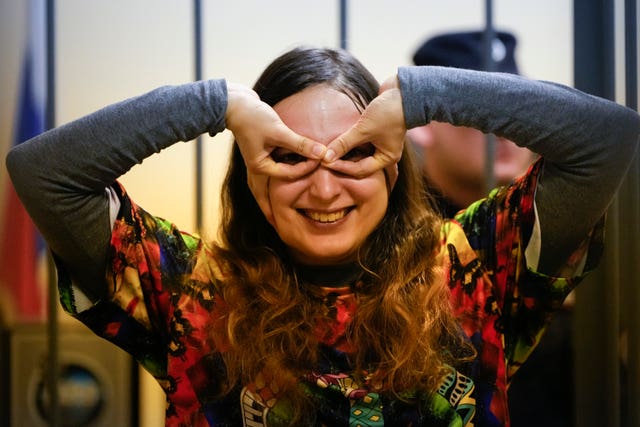 Almost daily court hearings in recent months put additional pressure on Ms Skochilenko, as the tight schedule often prevented her from getting meals.
At one point, the judge called an ambulance to the courthouse after she fell ill, telling the court it was her second straight day without any food.
At another hearing, she burst into tears after the judge rejected a request for a break so that she could eat or at least use the bathroom.
Russia's most prominent human rights group and the 2022 Nobel Peace Prize winner, Memorial, has declared Ms Skochilenko a political prisoner.
According to OVD-Info, another prominent rights group that monitors political arrests and provides legal aid, a total of 19,834 Russians have been arrested between February 24, when the war began, and late October 2023 for speaking out or demonstrating against the war.
Nearly 750 people have faced criminal charges for their anti-war stances, and over 8,100 faced petty charges of discrediting the army, punishable by a fine or a short stint in jail.