Coronavirus cruise ship Brits to be flown home home 'as soon as possible'
19 February 2020, 09:34
The Government is hoping to fly Brits onboard coronavirus-hit cruise liner the Diamond Princess back to the UK "as soon as possible" after two weeks in quarantine.
Passengers were finally able to disembark on Wednesday morning after spending 14 days confined to their cabins.
At least 542 of the 3,700 people onboard were infected by Covid-19, with those who tested negative leaving over the next few days.
The Diamond Princess' virus cases were the most in any place outside of China, and medical experts have called its quarantine a failure.
Mainland China has reported 74,185 cases of the virus and 2,004 deaths.
The Foreign and Commonwealth Office has said it hopes an evacuation flight for Britons will take off later this week.
A spokesman said: "We are planning an evacuation flight from Tokyo to the UK as soon as possible for Britons who are on the Diamond Princess. We hope the flight will be later this week, subject to permissions from the Japanese authorities.
"At 0700 local time on Wednesday, the Diamond Princess cruise operator and Japanese authorities allowed passengers to disembark from the cruise ship.
"However there is a chance that people who disembark will not be able to join the evacuation flight.
"We have the utmost concern for the affected Britons and strongly encourage them to register for the evacuation flight."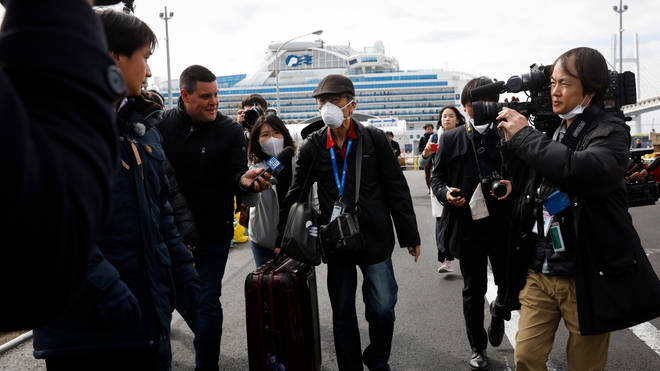 David Abel, who was aboard the ship, does not believe he will be on a planned evacuation flight to the UK after he and his wife Sally tested positive for the virus.
Mr Abel appeared to cast doubt on the diagnosis on Tuesday when he described the situation as "a setup" in a Facebook post.
But he said in a YouTube video on Wednesday: "We've since spoken to a doctor that speaks English, and we've had to really press hard for that, and it has been confirmed by him we are both positive.
"We are going to a hostel because there isn't a hospital bed anywhere around. So, we're going to a hostel and in four or five days we'll be removed from the hostel and put into a hospital, where we will receive treatment.
"So I can't see that there's going to be any way we're on that flight to the UK."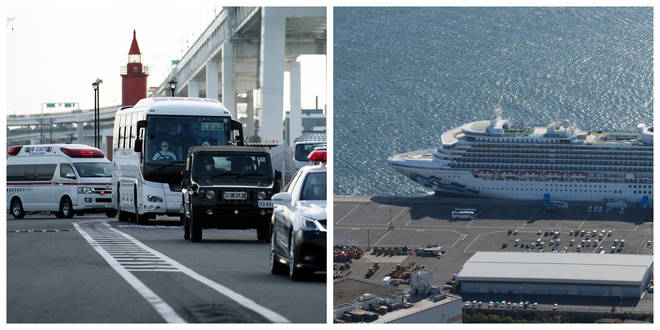 New cases in China continued to fall on Wednesday, with 1,749 more infections and 136 additional deaths as the top official in the outbreak's epicentre vowed to find and isolate every infected patient in the city by the end of the day.
Wednesday marks the final day of a door-to-door campaign in Wuhan, the central Chinese city where the virus emerged, to root out anyone with symptoms who authorities may have missed so far.
New cases have fallen to less than 2,000 for the past two days, but officials and analysts have warned the threat of a more serious outbreak remains as workers gradually return to work following a prolonged Lunar New Year holiday.
In Hong Kong, a spokesman for Princess Margaret Hospital reported the city's second death out of 62 cases. Media reported the victim was a 70-year-old man with underlying illnesses.