Typhoon Hagibis: Fears raised over fate of captive Taiji dolphins
12 October 2019, 08:24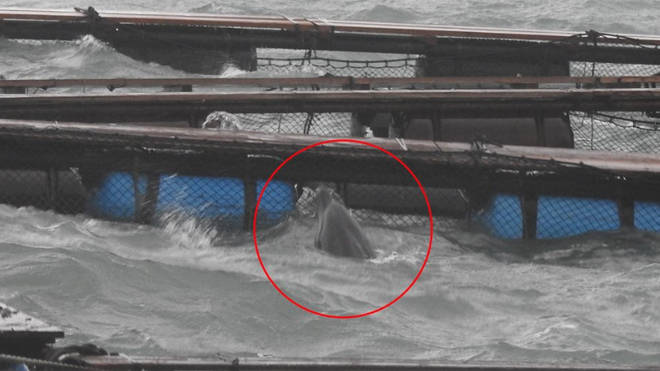 Fears have been raised for the welfare of a group of captive dolphins as Typhoon Hagibis approaches Japan.
Tokyo has effectively been 'shut down' by the storm, which has claimed one life so far.
Dolphin Project, a charity dedicated to the welfare and protection of the creatures around the world, shared footage online which appeared to show dolphins trying to leave their pens in Taiji, Japan.
The Taiji dolphins are at the centre of an animal rights campaign as it is the only town in Japan where dolphin drive hunting takes place.
In May 2015, theWorld Association of Zoos and Aquariums (WAZA) banned the sale and transfer of captive dolphins from Taiji.
Video footage posted online by campaigners showed the dolphins' pens being battered by waves in the storm.
The dolphin campaign group posted footage calling for nets at their pens to be taken down to give the dolphins the best chance of surviving the storm.