Two die as 'apocalyptic' Venice floods reach highest level in 50 years
13 November 2019, 08:35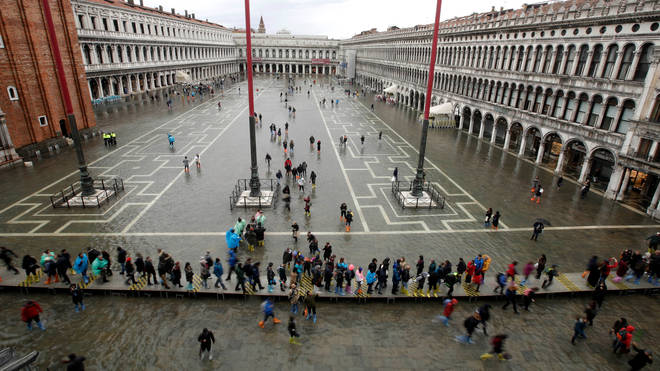 Two people are confirmed to have died in Venice after "apocalyptic" floods reached their highest level in 50 years.
Mayor Luigi Brugnaro declared a state of emergency following the "apocalyptic" flooding of the lagoon city which has caused hundreds of millions of pounds' worth of damage.
He blamed climate change for leaving vast swathes of the city entirely submerged after the water mark hit 74 inches on Tuesday, with more than 85 per cent of the city flooded.
It marked the second-highest floodwater level since records began after the infamous 1966 floods, when levels hit 78in.
Officials projected a second wave as high as 63in at mid-morning Wednesday.
An elderly local man from Pellestrina died after being struck by lightning whilst using an electric water pump, the fire brigade said.
Another man's body was reportedly found when concerned relatives entered his home.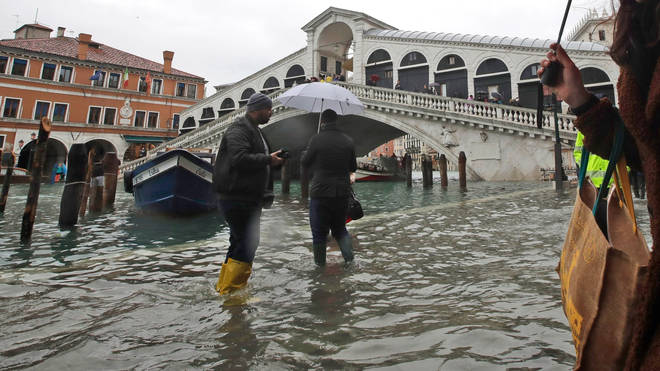 Saint Mark's Square was under a metre of water, forcing tourists to walk across makeshift platforms or brave getting wet.
The square's iconic Basilica was flooded for just the sixth time in 1,200 years, with four of those in the last 20 years.
Mr Brugnaro blamed climate change for the "dramatic situation," and said he would declare a state of disaster.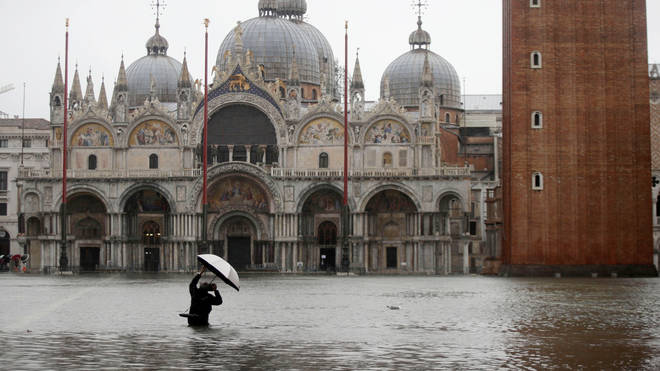 He also said the flooding would "leave a permanent mark" on the sinking city.
The mayor also called for a speedy completion of a long-delayed project to construct offshore barriers.
Called Moses, the moveable under-sea barriers are meant to limit flooding of the iconic city, caused by southerly winds that push the tide into Venice.
The governor of the Veneto region, Luca Zaia, said one person died, although the cause was not immediately clear.
Photos on social media show city ferry and taxi boats grounded on walkways flanking canals.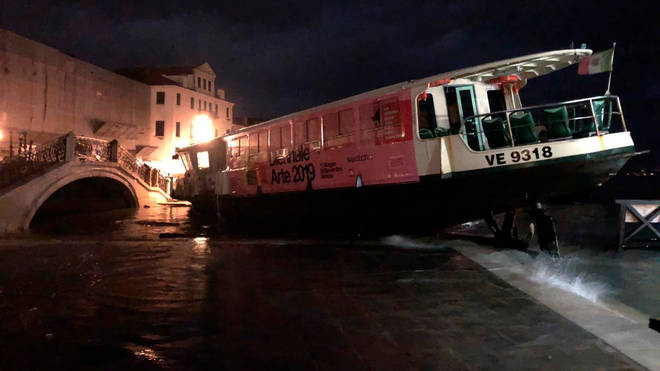 Tables and chairs were seen floating outside cafes and restaurants, while some shop owners were forced to pile clothing onto tables.
More rain is forecast to hit Venice from Friday into next week, risking further flooding.