Donald Trump blasts 'incompetent Sadique Kahn' in latest swipe at London Mayor
4 September 2019, 09:16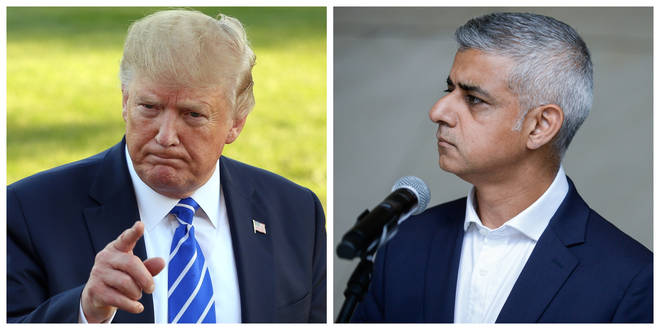 Donald Trump might be in need of a few spelling lessons after labelling Sadiq Khan as "Sadique Kahn".
Ironically, the US President labelled Mr Khan as "incompetent" before making his error.
Mr Trump quickly realised the error of his ways and deleted his original tweets - but not before the incorrect spellings were screenshotted.
However, he didn't quite manage to correct all his inaccuracies in the new round of tweets and left Mr Khan's surname being spelt as "Kahn".
His original tweets said: "The incompetent Mayor of London, Sadique Kahn, was bothered that I played a very fast round of golf yesterday. Many Pols exercise for hours, or travel for weeks.
"Me, I run through one of my courses (very inexpensive). President Obama would fly to Hawaii. Kahn should focus on "knife crime," which is totally out of control in London.
"People are afraid to even walk the streets. He is a terrible mayor who should stay out of our business!"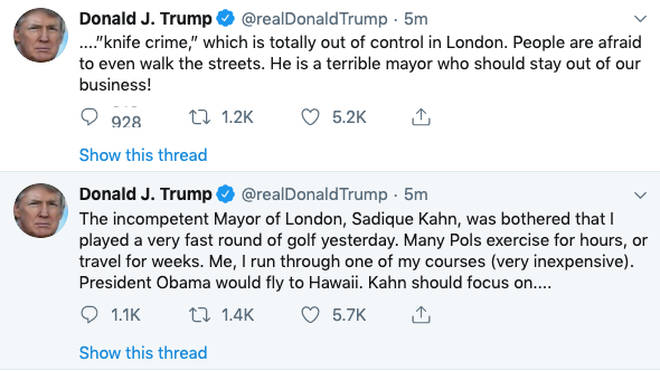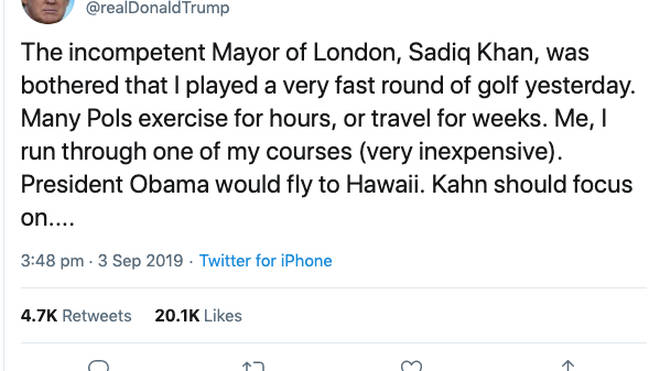 President Trump's furious tirade came after Mr Khan accused him of "dealing with a hurricane out on the golf course" over the weekend.
The US is currently preparing for Hurricane Dorian, which has so far claimed five lives across the Bahamas.
Forecasters have warned that hurricane conditions are expected to hit Florida and the southeast American coast in the coming days.
President Trump pulled out of a trip to Poland for a commemoration of the 80th anniversary of the second world war claiming he was going to be dealing with Dorian, but was later seen playing golf at his private club in Virginia.
No love has been lost between the two politicians, who have a history of exchanging nasty comments about each other.
Their feud began in 2015, when Mr Khan criticised the Trump campaign for pledging to ban Muslims from the US and added he hoped Mr Trump "loses badly".
Kahn took things a step further during Trump's visit to the UK in July 2018 when he permitted a giant blimp of Trump dressed as a baby during the President's visit.
Trump was enraged, and claimed Mr Khan had done "a very bad job on terrorism".
He added: "I think he has done a bad job on crime, if you look, all of the horrible things going on there, with all of the crime that is being brought in."