Iran's deputy health minister tests positive for coronavirus
25 February 2020, 13:07
Iran's deputy health minister has been diagnosed with coronavirus after he was seen looking unwell at a press conference to reassure the public that the coronavirus outbreak is under control.
During the press conference, Iraj Harirchi could be seen coughing and sweating profusely.
He has now been placed in quarantine.
"The coronavirus test for Mr Harirchi, the deputy health minister who was on the front lines combating the coronavirus, was positive," an official said in a tweet.
In a video message posted on Twitter after his diagnosis, he said that the country "will defeat coronavirus".
He said: "I would like to inform you that I've tested positive for coronavirus last night.
"I've had fever for last two days and cough. Let me assure you all that we will defeat this virus soon.
"With the help of people's prayers and our great doctors we will definitely defeat this virus.
"This is a democratic virus and doesn't differentiate between poor or rich, take good care of yourself and avoid going out."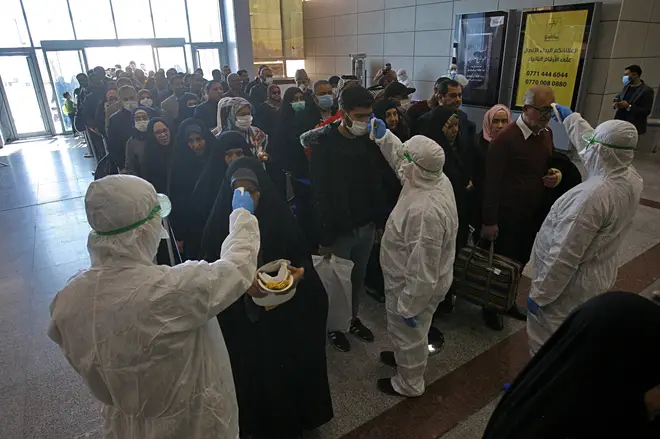 It comes after officials confirmed four more deaths from the new coronavirus in Iran on Monday, bringing the death toll so far in the country to 12.
The total number of confirmed cases now stands at 47, including those who have died of the virus, the state broadcaster said.
The outbreak in Iran has centred mostly on the city of Qom, but spread rapidly over the past few days to people in at least four other cities, including the capital, Tehran.
When Iranians also went to the polls on Friday for nationwide parliamentary elections, many voters could be seen wearing masks and stocking up on hand sanitiser.
Officials said people who illegally travelled to Iran from Pakistan, Afghanistan and China were the "source" of the infection.
Travellers infected with the virus from Iran were confirmed in Canada and Lebanon last week. In more recent days, the United Arab Emirates reported a married Iranian couple had been found to be infected.
Kuwait said on Monday that three people returning from Iran were infected with the virus, among them a Saudi national, while Bahrain reported a citizen returning from Iran had also been found to have the virus.
Countries bordering Iran have taken preventive measures to limit the spread of the virus from Iranian travellers, with some barring Iranians from entry altogether.
Iran is already facing diplomatic and economic isolation under US pressure. The virus threatens to isolate Iran even further as countries shut their borders to Iranians.
Authorities in Iran shuttered schools in at least 10 provinces across the country. Tehran University also suspended classes and shuttered its dormitories for several days. Those who live in student dorms were asked to return to their home towns and continue classes through the internet where possible.
Football fans across the country will not be allowed to attend matches, and shows in cinemas and other venues were suspended until Friday.
Mainland China's now totals to 77,658 cases and 2,663 deaths.
South Korea now has the second-most cases in the world with 893 and has had a near 15-fold increase in reported infections in a week, with 60 new cases reported on Tuesday.
In Italy, 229 people have tested positive for the virus and seven have died, police manned checkpoints around a dozen quarantined northern towns as worries grew across the continent.