Putin may launch 'false flag chemical weapons attack' before Ukraine invasion
17 February 2022, 10:17 | Updated: 18 February 2022, 00:08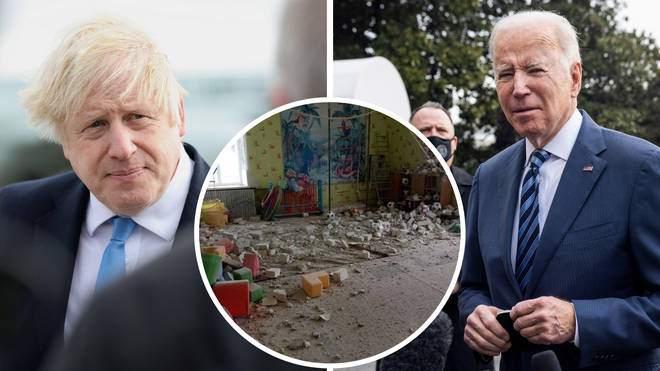 Britain and the United States have accused Russia of attempting to "manufacture a pretext" to invade Ukraine amid deepening fears in the West that an attack is imminent.
At a dramatic session of the United Nations Security Council in New York, US secretary of state Antony Blinken laid out how a Russian incursion could unfold.
"As lead diplomats for our nations we have a responsibility to make every effort for diplomacy to succeed, to leave no diplomatic stone unturned," he said.
Mr Blinken said that while they did not know precisely how a Russian invasion would play out, it could begin with a "violent event" which Moscow would blame on Ukraine.
"It could be a fabricated so-called terrorist bombing inside Russia; the invented discovery of a mass grave; a stage drone strike against civilians; or a fake, even a real attack using chemical weapons," he said.
This could be followed by the Russian government "theatrically" convening emergency meetings to address "the so-called crisis".
"The government will issue proclamations declaring that Russia must respond to defend Russian citizens or ethnic Russians in Ukraine," he said.
"Next, the attack is planned to begin. Russian missiles and bombs will drop across Ukraine. Communications will be banned. Cyberattacks will shut down key Ukrainian institutions.
"After that, Russian tanks and soldiers will advance on key targets that have already been identified and mapped out in detailed plans. We believe these targets include... Ukraine's capital, Kyiv."
Read more: Royal Navy ships patrolling Channel 'too high' to block migrant boats, minister admits
Speaking on Thursday evening, the UK Foreign Secretary accused Russia of choosing a "path of confrontation over dialogue".
Liz Truss said: "The Duma's request that Vladimir Putin recognises the Ukrainian regions of Donetsk and Luhansk as independent shows flagrant disregard for Russia's commitments under the Minsk agreements.
"If this request were accepted, it would represent a further attack on Ukraine's sovereignty and territorial integrity, signal an end to the Minsk process and demonstrate a Russian decision to choose a path of confrontation over dialogue.
"We urge Russia to end its pattern of destabilising behaviour against Ukraine and to implement the commitments it has freely signed up to, including the Minsk agreements."
It comes after Russian-backed rebels were blamed for shelling a kindergarten in eastern Ukraine in a 'false flag attack', described by Boris Johnson as a "spurious provocation for Russian action".
Ukraine's military said there were no injuries, although two civilians were reportedly suffering from shell-shock in the attack in the Donbass region.
But Russian-backed rebels have made accusations of their own, saying Ukrainian forces had fired across the ceasefire line.
Boris Johnson has since confirmed it was a false flag operation to "discredit the Ukrainians, designed to create a pretext, a spurious provocation for Russian action".
Speaking about the latest developments on a visit to RAF Waddington in Lincolnshire, the Prime Minister said: "I wish I could give everybody better news about this, but I have to tell you that the picture is continuing to be very grim.
"Today, as I'm sure you've already picked up, a kindergarten was shelled in what we are taking to be - well, we know - was a false flag operation designed to discredit the Ukrainians, designed to create a pretext, a spurious provocation for Russian action.
Read more: Back to the Cold War: Russian threat could last a generation, minister warns
"We fear very much that that is the kind of thing we will see more of over the next few days.
"What we are doing is making that we do everything to strengthen the package of sanctions that will follow immediately should there be a Russian invasion."
The attacks, which reportedly happened in the Donbass region, are said to be on a similar scale to other violations of the ceasefire in recent years.
However, they come at a time of a looming Russian invasion and fears the separatist conflict could be used as justification for an attack.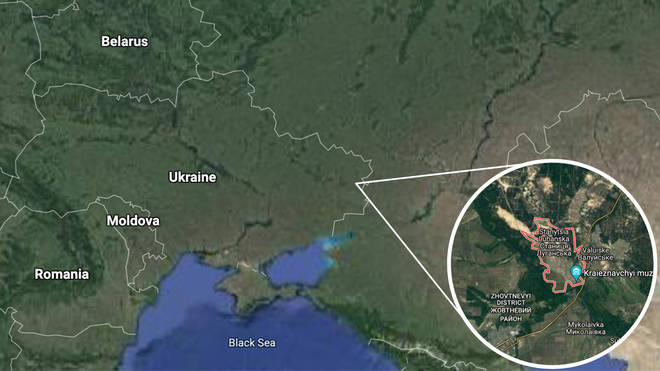 The Foreign Secretary Liz Truss said Russia is "clearly the aggressor" in the shelling.
Asked about whether the incident was an attempt to create a pretext for invasion, Liz Truss said: "We have been warning about the likelihood of a false flag operation. That is what we are seeing taking place.
"We are very clear the aggressor in this situation is Russia. We will continue to call out false flag operations.
"We will continue to call out their cyber attacks, and their attempts to undermine Ukraine which is a democratic sovereign country which Russia agreed to respect in various agreements."
Nato secretary general Jens Stoltenberg was asked this afternoon whether hostilities around Donbass could be used as a pretext for a Russian invasion.
He said: "We are concerned that Russia is trying to stage a pretext for an armed attack against Ukraine.
"[There] is still no certainty about the Russian intentions, we don't know what will happen, but we do know that Russia has amassed the biggest force we have seen in Europe for decades in and around Ukraine."
He added during a press conference: "Despite Moscow's claims we have seen no sign of withdrawal or de-escalation so far, on the contrary Russia's build up appears to continue.
"We continue to monitor developments very closely."
He said Nato was calling on Russia to "withdraw its forces from the border of Ukraine", adding: "This will be an important first step towards a peaceful political solution."
"Allies are ready to sit down with Russia" to try to reach a diplomatic solution, he said.
He continued: "Nato and allies are helping Ukraine boost its ability to defend itself... self-defence is a right enshrined in the UN charter and allies are helping Ukraine to uphold that right."
Foreign Secretary Liz Truss told LBC on Tuesday she feared Russia could be plotting a so-called 'false flag' invasion - where they "pretend that there has been provocation from Ukraine in order to justify an invasion".
Tensions have been building between Russia and Ukraine for months, but many believe they could come to a head any day now.
Whilst Moscow has repeatedly denied it is planning an invasion of its neighbour, the amassing of Russian troops on the border and the creation of field hospitals appears to suggest otherwise.
Watch: 'We don't trust them': Foreign Sec fears Russia is plotting 'false flag' invasion
Read more: Eleventh hour peace bid: PM To hold crisis talks as Russia on 'brink of war with Ukraine'
Defence Secretary Ben Wallace told LBC on Wednesday Russia was "locked and loaded" and "ready" to invade, disputing claims they were withdrawing troops.
"Yesterday we saw Russian forces in some areas leave their assembly areas and go to a more forward deployment area, and also the deployment of field hospitals," he told Nick Ferrari at Breakfast with Tom Swarbrick.
"Russia has the size of forces now gathered and at readiness, locked and loaded to some extent, ready to go should they wish to do so."
Nato secretary-general Jens Stoltenberg said on Thursday that aggression from Russia was the "new normal".
"There are signs from Moscow that diplomacy could continue but so far we have not seen any sign of withdrawal or de-escalation," said Mr Stoltenberg at a meeting of the alliance's defence ministers with counterparts from Ukraine and Georgia.
Read more: Nato chief warns no de-escalation in Ukraine as he urges Russia to 'choose path of peace'
Watch: Back to the Cold War: Russian threat could last a generation, Minister warns
"Russia has yet again demonstrated a disregard for the principles underpinning European security and its ability and willingness to threaten the use of force in pursuit of its objectives.
"Unfortunately, I am afraid this is the new normal which we need to be prepared for."