11-Year-Old Boy Phones Eddie Mair Because He's "Annoyed" With Philip Hammond
30 October 2018, 17:38 | Updated: 2 November 2018, 12:36
An 11-year-old boy was so annoyed with Philip Hammond's "little extras" pledge for schools, he phoned Eddie Mair to get it off his chest.
In the final Budget before Brexit, the Chancellor said schools in England would receive a £400m one-off payment.
He described it as money for schools to "by the little extras they need".
The announcement provoked anger among teachers and parents who say their budgets have been squeezed.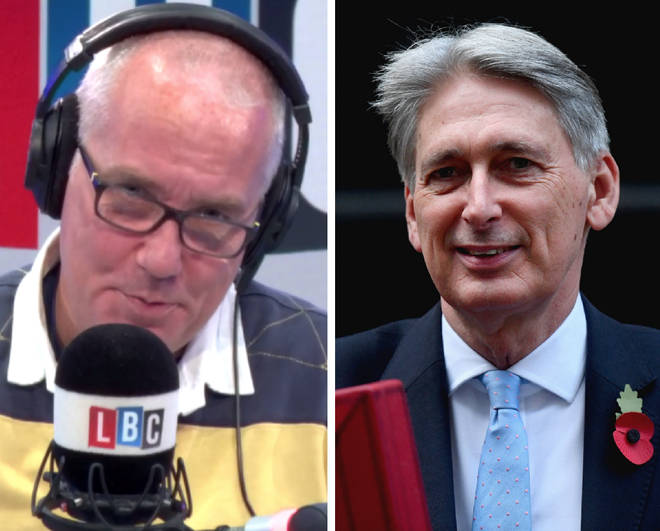 Jacob told LBC that his school has been hit by funding cuts "badly".
"It's not 'little extras' like an IT suite and a couple of Macs," he said.
"It's fundamental."
During the call Eddie also heard from Jacob's mum Aneice.
"He is a very big LBC fan, he listens all the time and he came down the stairs saying 'I want to ring in, I'm not happy with this little extras thing' - the phrase annoyed him," she said.
The call received a huge reaction from LBC listeners on Twitter.
Just listening to Jacob on @LBC talking to @eddiemair. One of the most articulate, coherent and thoughtful callers I've heard in ages. Jacob is 11. Gives one hope for the future. 👍🏼

— Gareth Dafydd Pearce 🏴󠁧󠁢󠁷󠁬󠁳󠁿🇬🇧 (@Gwaredd28) October 30, 2018
@eddiemair @LBC That Jacob is a bright little boy. Huge prospect for the future as LBC presenter 😎👍

— Murdo 🏴󠁧󠁢󠁳󠁣󠁴󠁿🇬🇧 (@ScotBrit_1999) October 30, 2018