Eddie Mair Not Impressed With "Succinct" Brexit Booklet
11 September 2018, 17:35
The LBC presenter was surprised by how "feather light" the document was after being promised more details on an alternative Chequers proposal by a Conservative Brexiteer yesterday.
On Monday's show, Conservative MP and Brexiteer Peter Bone told Eddie Mair to wait until today for details on an alternative Brexit plan after declaring Theresa May's Chequers plan "dead in the water."
Mr Bone told the LBC presenter that further details would be revealed in a report by the Economists For Free Trade published today.
It said the UK had "nothing to fear" from a "clean break" from the EU and that a No-Deal could give an £80 billion boost to the tax base and cut prices by eight per cent.
However, Eddie thought the booklet didn't seem to yield much enlightening information.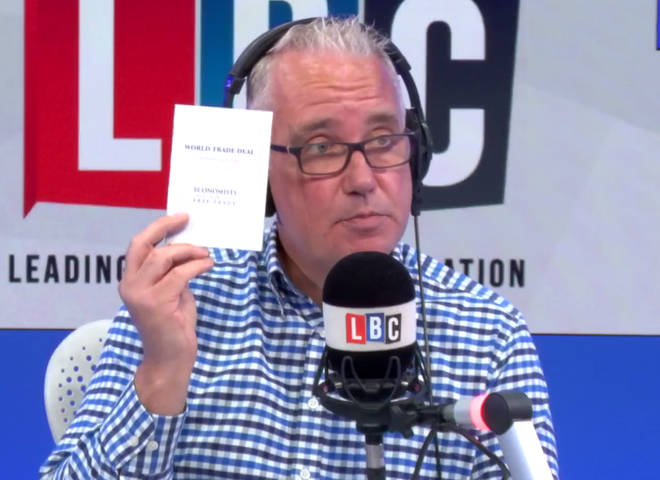 Speaking to LBC's Political Editor Theo Usherwood, Eddie said: "It's light as a feather. There are eight pages of actual Q and A.
"Although this is very basic, there is a longer document.
"For instance it says, and it manages to be very succinct here: Wouldn't Foreign Direct Investment into the UK inevitably fall? The answer. No."