Saudi Arabia: Russian-Style Sanctions "Unlikely" Over Khashoggi Killing
23 October 2018, 17:57 | Updated: 23 October 2018, 18:02
Britain is unlikely to impose tough sanctions on Saudi Arabia following the killing of journalist James Khashoggi, a former ambassador has told LBC.
Sir Peter Westmacott said he doubted the international response would on a similar scale to that of Russia after the Salisbury poisonings.
He served as the UK Ambassador to Turkey from 2007 to 2011 and ambassador to the US between 2012 and 2016.
Turkey's president has said the killing of Mr Khashoggi was planned days in advance by Saudi officials.
Recep Tayyip Erdogan said Turkish investigators had evidence the Saudi writer was the victim of a premeditated "savage murder" by a 15-man hit squad.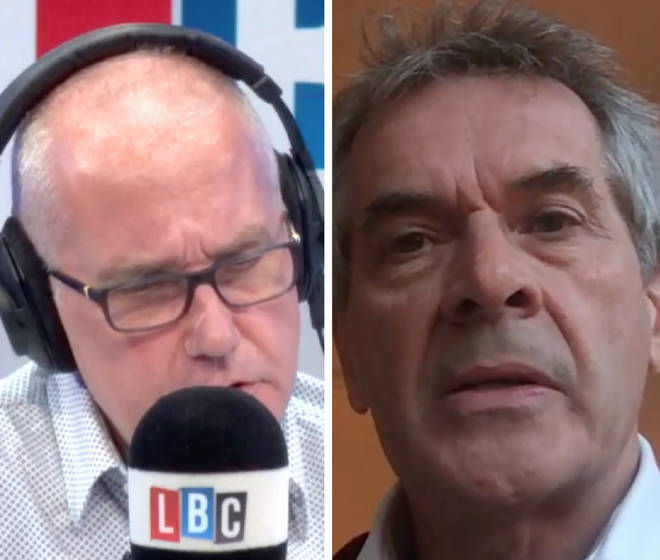 His version of events based on what he described as "new evidence and information" contradicts Saudi Arabia's explanation that Mr Khashoggi had died in a "fist fight" at the Saudi consulate in Istanbul on 2 October.
Foreign Secretary Jeremy Hunt has joined other G7 foreign ministers in condemning the killing "in the strongest possible terms".
Sir Peter told Eddie Mair that despite "diplomatic outrage" there was unlikely to be tough sanctions imposed.
He said: "I will be surprised if we see the Turks asking the international community to rally round and sanction Saudi Arabia in a way the United Kingdom did after the Russians were caught trying to poison their political opponents of the streets of the UK."
Eddie asked: "Is that a double standard?"
Sir Peter replied: "Well, I think it may be a different realpolitik.
"Every situation is different, in a way perhaps it is [a double standard] but I think we have to be guided by how the Turks would want to handle this.
"The British government, partly for its own reasons chose to take the path it did, but we should not underestimate the sense of diplomatic outrage."