David Miliband Calls On Jeremy Corbyn To Back A Second Brexit Referendum
5 December 2018, 17:10 | Updated: 5 December 2018, 17:22
David Miliband has called on Jeremy Corbyn to back a second Brexit referendum as he insisted another vote wouldn't be undemocratic.
The former Labour Foreign Secretary told LBC it was now "more likely" that a second referendum would be held after Theresa May suffered three defeats in the Commons on Tuesday.
The Labour Party says it will not back the Prime Minister's withdrawal agreement when it's voted on next week.
What happens then remains in question, but Mr Miliband told Eddie Mair a new public ballot on Brexit should be on the cards.
"I would like to see that," he said when asked whether the Labour leader should back a second referendum.
"Obviously the temptation in Opposition is to enjoy the difficulties that a government is facing.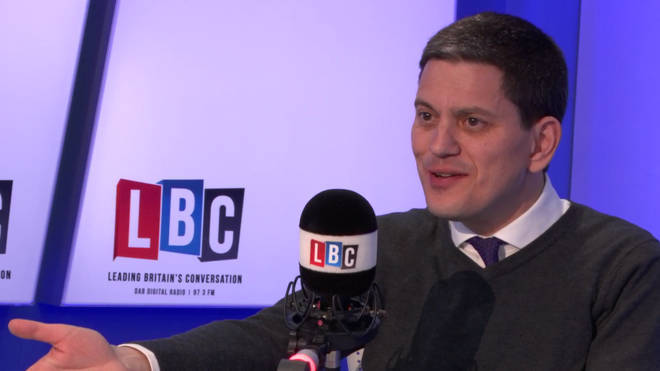 "While in politics the word crisis is thrown around too easily, we are four months from a very, very significant fork in the road.
"Obviously there are divided opinions in parties as well as families."
He continued: "The movement inside the Labour Party amongst the membership is to say the democratic health of the country as well as its economic health depends on getting this decision right."
"The danger now is since the deal is one neither Leavers want nor that Remainers, the greatest threat to our democratic health is no-one gets what they want and that is very damaging."