The Caller Who Refuses To Wear A Poppy Because It "Celebrates Racism"
6 November 2018, 13:46 | Updated: 6 November 2018, 13:48
An LBC caller told Tom Swarbrick he refuses to wear a poppy because it "signifies British colonialism" and people who wear one are "celebrating racism".
The remarkable conversation spanned over five minutes and left Tom absolutely furious.
It's after Manchester United footballer Nemanja Matic did not wear a poppy on his shirt over the weekend because it reminds him of when his village was bombed when was a child.
The bombing, in 1999, was part of a Nato-led offensive to drive out Serbian forces from Kosovo.
Matic was the only United player not wearing a poppy during their 2-1 victory over Bournemouth on Saturday.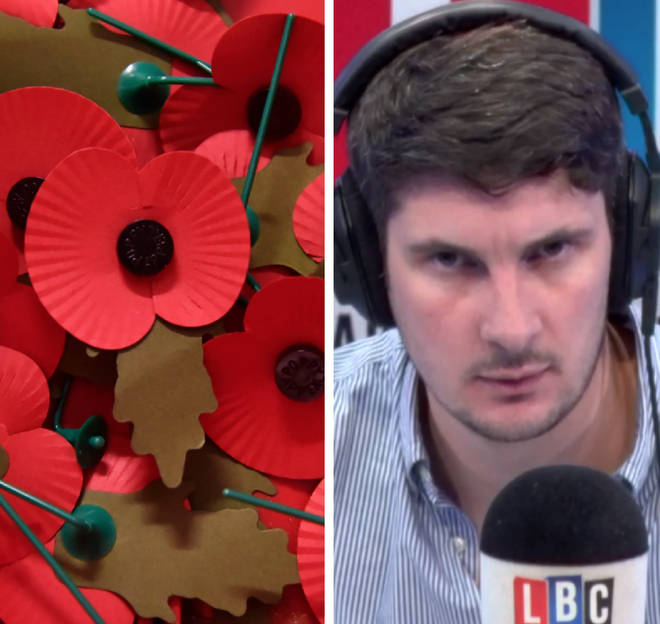 - What is the controversial white poppy and where do some people wear it?
In the intense exchange caller Andrew asked: "Why would I, as a black person who knows the amount of atrocity that has happened by the British in Africa, why would I put a poppy on me?"
He added: "It signifies British colonialism and British power the whole world."
Tom hit back: "That is such nonsense," before asking: "So anyone who wears it in your skewed world is celebrating British colonialism, racism and slavery?"
Andrew replied: "Yes definitely".
The pair's row turned ever more heated. Watch it in full above.