Jacob Rees-Mogg Is Talking Cobblers On No-Deal Brexit: Tom Swarbrick
23 August 2018, 11:55
Tom Swarbrick has told LBC that Jacob Rees-Mogg is talking "cobblers" over the potential of a no-deal Brexit.
In a newspaper column today, Mr Rees-Mogg said that the government needs to believe in Britain and to reject Theresa May's Chequers deal.
He wrote: "The government would be wrong to be fearful of Britain enjoying an independent future. Theresa May's Chequers proposals would shackle us to the EU forever. We would be out of Europe yet still run by Europe."
But after listening to Brexit Secretary Dominic Raab lay out Britain's plans for a no-deal, Tom told him he should stop rushing to leave all European institutions.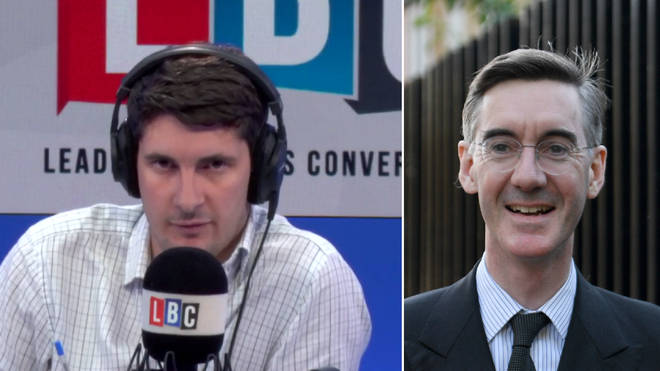 Speaking on LBC as he was standing in for James O'Brien, he said: "I'm afraid, according to the Brexit Secretary right there, Jacob Rees-Mogg is talking cobblers.
"Because we could diverge. We can move away totally from European Union rules and standards when it's in our interests and clearly all that's coming from business, from employers, from employees, from a lot of the country and critically from parliament is we are nowhere near ready to chuck the baby out with the bath water and come out completely.
"It is absolutely right that the government plans for no deal, but it is in our interests to diverge further if we can and if we want to.
"If you are an ideological Brexiteer, that you want completely out now, what's the rush? If you want it to happen, it can happen. We can choose to come out further based on what the country needs, based on our economic ability, based on our parliamentary sovereignty, we are free to diverge once we've left the treaties of the European Union.
"Not necessarily as quickly as some ideological Brexiteers would like, but then if it's not in the country's interests, it's not in the country's interests."