North Korea's Official Spokesman Tells LBC: Kim Jong-Un Is Just Like The Queen
23 May 2018, 07:44 | Updated: 23 May 2018, 07:54
An official spokesman for the North Korea government has compared Kim Jong-Un with The Queen in an exclusive interview with LBC.
Alejandro Cao de Banos, the Special Representative for the Government of North Korea in Europe, said their leader is misunderstood and is as loved in his country as the Queen is in Britain.
Speaking to Tom Swarbrick after Donald Trump threatened to withdraw from the planned summit, Mr Cao de Banos said: "Kim Jong-Un, the whole country, our system is all misunderstood.
"In many media, they are more interested in selling than in supplying information."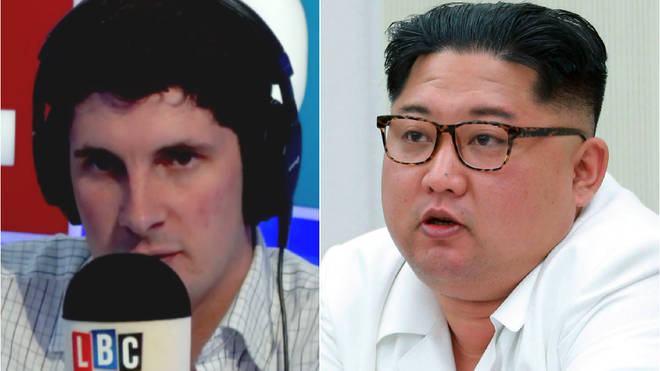 When Tom asked what the leader is like, he responded: "He is very simple, very humble. He is a very military person because he grew up in the military academy and he studied military tactics and strategy.
"Calling him a dictator is like calling the Queen of England a dictator.
"People have respect for someone who has not been elected. But people love her.
"We think about him in the same way. People love our leader.
"This is what North Korean people think about our leader. They love our way of life."
Mr Cao de Banos suggested that people are happier in North Korea, as they get a house for free by the government, meaning there is no homelessness.
And when Tom criticised it, the government spokesman invited him to North Korea to see for himself what life is like in the state.
Watch the remarkable interview at the top of the page.