The Truth Behind Amazon's Claim That No-Deal Brexit Will Lead To "Civil Unrest"
23 July 2018, 08:55 | Updated: 23 July 2018, 16:01
The boss of Amazon has warned that Britain faces "civil unrest" within two weeks if we leave the EU without a deal. But this is very different to what he said a few months ago.
Doug Gurr, the UK Country Manager for the internet giant, told other business leaders last week that it's the worst-case outcome during a meeting with Brexit Secretary Dominic Raab, according to The Times.
But LBC's Business Correspondent Declan Curry reveals this is contrary to Mr Gurr's previous comments.
Speaking to Tom Swarbrick, Declan said: "At this meeting, the head of the UK for Amazon told other guests, including the Brexit Secretary, that the worst case outcome that Amazon saw from a hard Brexit would be civil unrest, disorder on the street.
"The Times said 'The remark stunned those present, with some expressing skepticism about Amazon's forecast' which is a lovely way of expressing it.
"It's worth drawing this contrast. In June, Amazon spoke to the Guardian newspaper and it said then that it was committed to a post-Brexit Britain and planned 2,500 new jobs.
"Perhaps Mr Gurr's views on this are, shall we say, evolving. Maybe he's just considering all the potential aspects of this."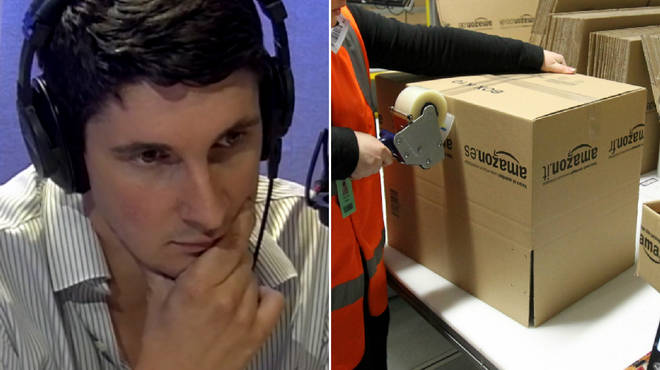 In that interview with the Guardian, Mr Gurr said: "The UK is a fantastic place to do business. We are trying to make sure all the businesses that work with us can continue to operate effectively.
"We don't yet know exactly what the rules [on trading after Brexit] are going to be. We will wait and see what happens and adapt as necessary."
Responding to Mr Gurr's comments on Friday, an Amazon spokesman said: "Like any business, we consider a wide range of scenarios in planning discussions so that we're prepared to continue serving customers and small businesses who count on Amazon, even if those scenarios are very unlikely.
"This is not specific to any one issue — it's the way we plan for any number of issues around the world."