Tom Swarbrick Predicts Brexit Won't Be Completed For Another Three Years
19 September 2019, 23:56 | Updated: 20 September 2019, 07:11
Former Number 10 advisor Tom Swarbrick says he doesn't think Britain will able to fully leave the EU for another three years.
Tom, who worked in Downing Street under former Prime Minister Theresa May, spoke after European Commission President Jean-Claude Juncker said that "Brexit will happen" and the UK and the European Union "can get a deal" before the end of October.
The LBC host believes that that deal will contain provisions for the UK-Ireland border that "will in effect be what the backstop was, just not called the backstop".
He added that Britain will "have to be in a transition period" once the country leaves the EU with a deal, and that it will not be possible for arrangements for that border in Ireland to be put in place within three years.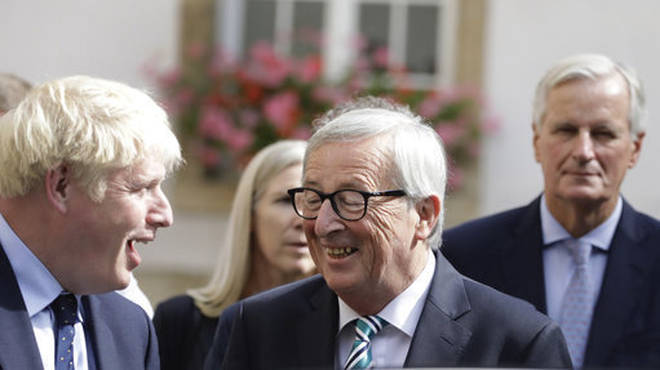 Speaking on his LBC show, Tom said: "Boris Johnson needs a deal because no-deal won't get through. There will be an election before then and an election before Brexit happens is very problematic for the Conservative Party.
"He needs a transition period because in order to bring in the alternative arrangements, he needs at least 18-24 months to implement what has been put forward by the Alternative Arrangements Commission.
"The EU are going to say 'What happens if at the end of that transition agreement, there aren't those alternative arrangements in place which guarantees the border in Northern Ireland?'
"The answer to that is don't know at this stage, but whatever that is will be in effect what the backstop was - just not called the backstop.
"That feels to me like where we're going to end up. We're going to have to have a transition period. I can't see how the arrangements can be in place by the end of 2020, as Boris Johnson has suggested. Even the Alternative Arrangements Commission's own report said it would take possibly three years for those things to be in place."