Tom Swarbrick Hails Bravery Of Police Officers Who Run Towards Terror Incidents
14 August 2018, 12:17
Tom Swarbrick praised the courage of police officers who run towards terror attacks while everyone else runs away.
One man has been arrested after a car was driven into a security barrier outside the Houses of Parliament. Police are treating it as a terror incident.
CCTV footage shows the car swerving on to the wrong side of the road towards some cyclists before pulling into a slip road and accelerating into the barrier.
Videos of the aftermath show armed police rushing towards the incident and arresting the driver.
Tom was left in awe of the bravery of the armed police. Speaking on his LBC show, standing in for James O'Brien, he said: "You can't imagine what it must be like to be an armed police officer, hearing a bang, seeing a car going into a barrier.
"If you're running at it from the Lambeth Bridge end, looking to your left and seeing cyclists strewn on the ground and having to run at that car with your gun, vault over a barrier and go into it and drag the guy out.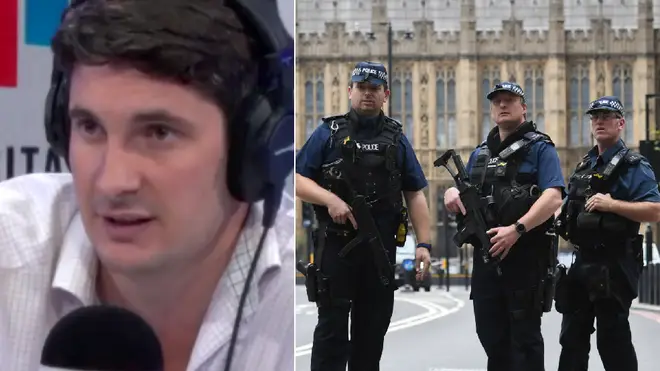 "The courage that those men and women show on a daily basis is absolutely extraordinary."