The Brexit Party is finished, its founder tells LBC
5 December 2019, 22:44 | Updated: 6 December 2019, 07:38
The founder of the Brexit Party says it is "finished", and has called on its leader Nigel Farage to accept the "political reality".
Catherine Blaiklock told LBC's Tom Swarbrick that the party's strategy for the general election is wrong.
She was speaking after three MEPs who elected to Brussels under the Brexit Party banner quit the party and urged Brexiteers to vote for the Conservatives next Thursday.
While Annunziata Rees-Mogg, Lance Forman and Lucy Harris chose to quit the party, Jon Longworth also lost the whip after criticising its strategy.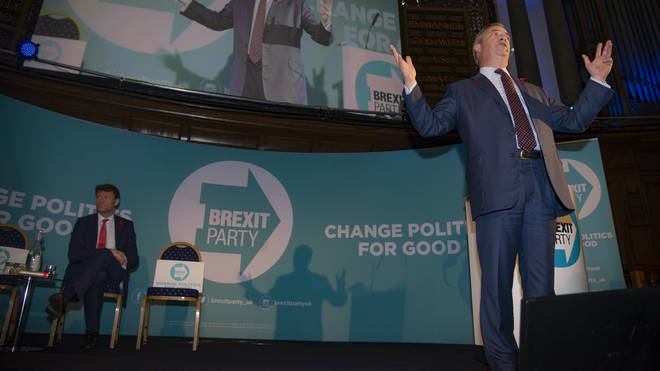 Mrs Blaiklock cited the arguments of Arron Banks - a long-time funder of Mr Farage - who has said that the Brexit Party should have targeted a small number of seats, in which it has a realistic chance of success.
She said: "The political reality has changed and I think that Nigel should accept that.
"Arron Banks, who has been a very strong supporter of Nigel over the years, has said exactly the same thing, that they should have been pinpointing on 20 or 30 seats, not against marginals where you're likely to get a Remain coalition win instead."
When Tom asked if she thinks the Brexit Party is finished, Ms Blaiklock responded: "Yes. But I think it's going to open up another hole in the political market unless Boris delivers on some of the things that caused Brexit in the first place - mass migration, freedom of speech, crime, what people see as the destruction of their communities and terrorism."