Corbynista Sparks Fury From Tory MP After Calling For British Legion To Be Axed
9 November 2018, 11:34 | Updated: 9 November 2018, 12:03
A top Jeremy Corbyn supporter sparked a furious response from a Conservative MP when he called for the Royal British Legion to be shut down.
Commentator Aaron Bastani was described as "hysterical" by former Defence Minister Mark Francois during the ferocious interview.
It was sparked after Tom Swarbrick played a recording of Mr Bastani, in which he described the poppy appeal as "grotesque", "racist" and "white supremacist".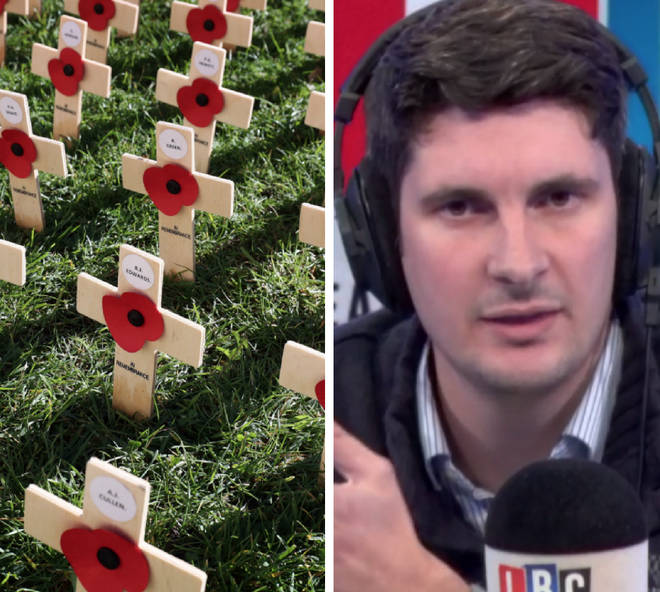 Despite the audio, he instantly denied the remarks, claiming they had been "taken completely out of context".
"I've worn the poppy before does that make myself a racist?" Mr Bastani asked to which Tom replied: "It would make you a hypocrite".
He went on to describe the Invictus Games as "putting lipstick on a pig" and called for it to be scrapped along with the Royal British Legion.
"The idea you'd put something so important in the lap of a charity… is a poor legacy, it smells very bad," Mr Bastani argued.
All the while, Mr Francois MP was listening on the other line - and he was left completely dumbfounded.
"I've been a Member of Parliament for 17 years," the MP for Rayleigh and Wickford said.
"The clip you played earlier and the interview that has just taken place I think is one of the most bizarre, insulting and hysterical interviews that I have ever heard.
"The man you were interviewing said the poppy was a symbol of militarism - it is not, it's a symbol of respect."
Clearly angered, Mr Francois continued: "I've listened to what this man has said and I'm not a member of the Labour Party and I'm not responsible for their rules or their procedures - but I would be ashamed to have a man like this in any party I'm in."
He added: "To describe the Invictus Games as 'putting lipstick on a pig' is incredibly insulting."
Mr Bassinti described the MP's response as "mealy-mouthed language".
The pair then continued to row in what was an extraordinary interview.