Swarbrick on Sunday 08/08 | Watch in Full
8 August 2021, 09:00 | Updated: 8 August 2021, 14:42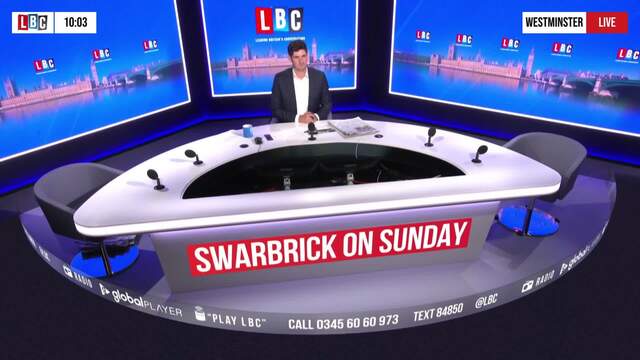 Swarbrick on Sunday 08/08
You can watch this week's Swarbrick on Sunday in full here.
The Government's "Professor Lockdown" Neil Ferguson announced this week that future lockdowns are unlikely as coronavirus cases fall. Epidemiologist Dr Deepti Gurdasani was confronted by Tom Swarbrick after suggesting the UK should continue restrictions until there is "no community transmission" of the virus.
Sir Mark Lyall Grant, the former UK National Security Adviser, fears the Taliban will be governing in Afghanistan by the end of the year and calls on the UK to resettle interpreters amid the conflict.
Medical professionals have issued a plea for people to come forward and get vaccinated as more and more anti-vaxxers fall victim to Covid-19. Carla Hodges, stepdaughter of an anti-vaxxer who died from the virus called on online trolls to leave her family to grieve Leslie Lawrenson's death.
Swarbrick on Sunday is live from LBC's Westminster studio every Sunday from 10am and you can watch live on Global Player.