Lawyer For Shamima Begum's Family Explains Why She Wants To Return To Britain
3 October 2019, 23:30 | Updated: 4 October 2019, 07:22
The lawyer for Isis bride Shamima Begum's family has told LBC she wants to return to Britain for her family.
Tasnim Akunjee was taking LBC listeners' calls with Tom Swarbrick on LBC.
Runaway jihadi bride Shamima Begum wants to return to Britain now because she had previously lost two of her children and was motivated to protect her third - who also died days after his birth.
When asked why she only returned once the Islamic State had been defeated, he said: "Love. She loves her husband.
"She's lost two children. She was fairly clear she didn't want to lose the one that was gestating still within her."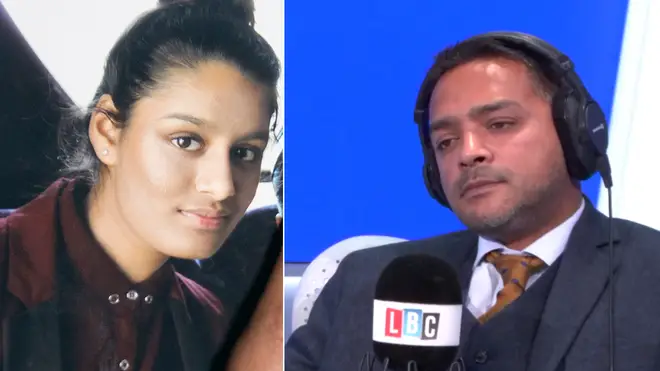 But Tom told him: "That paints a really oddly anachronistically-romantic vision of all of this.
"Here she is in the desert in Syria, watching beheadings, knowing the crimes that Isis are committing having grown up in a liberal society of ours. And yet the love of this guy that she's only just met is keeping her going."
Watch the interview at the top of the page.