Actor Adam Pearson Criticises BBC Over Elephant Man Drama Casting
30 August 2018, 17:34 | Updated: 30 August 2018, 17:42
British actor Adam Pearson has criticised the BBC over its decision to cast a non-disabled actor in a remake of the Elephant Man.
The role of Joseph Merrick - who had severe physical deformities - will instead be played by Stranger Things actor Charlie Heaton.
Mr Pearson, who has neurofibromatosis type 1, a condition which was once thought to affect Joseph Merrick, told LBC: "I would have liked to have gotten a phone call.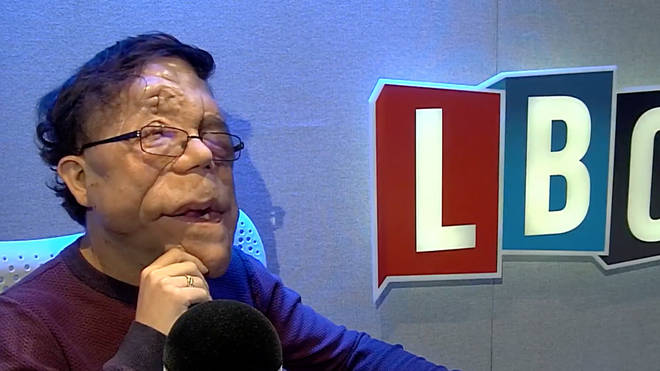 "Bearing in mind that I have the condition, I'm an actor, I've been in a BAFTA-nominated film, I did a documentary for the BBC on freak shows around Joseph Merrick.
"I would have been very much on the radar… it's a systemic problem, not only in the BBC but industry-wide."
He added: "The job ultimately should go to the best actor, however, actors with the conditon you're trying to portray should absolutely be the first port of call - irrespective of how much extra effort that is."
A spokesman for the BBC programme said: "The Elephant Man is an iconic drama that has had an important role to play in highlighting changing attitudes to disability and we are currently in the process of casting disabled actors in a variety of key roles.
"Charlie Heaton, who plays the part of Joseph Merrick, will portray his journey from a young man to his death at the age of 27."
Born in 1862, Merrick began to develop physical deformities to his skin, face, arms and feet at five years old.
Seeking to escape a workhouse several years later, he found his way into a human oddities show in London where he was exhibited as The Elephant Man.