"A Lot's Changed Since The Worst Criticism Of May Was Holding Trump's Hand"
8 November 2017, 14:16 | Updated: 8 November 2017, 14:24
Remember when Theresa May holding Donald Trump's hand was the worst thing people could criticise her for? Well a lot has changed since then, says Shelagh Fogarty.
Downing Street has denied reports that it knew about Priti Patel's meetings with Israeli political figures before last Friday.
Number 10 also says it's untrue to say it ordered officials to remove some of the meetings from a list published this week.
The International Development Secretary's expected to be sacked later today, but it comes as part of a long line of scandals the Prime Minister has had to deal with.
Back in January the Prime Minister was criticised by her opponents after she was pictured holding hands with the US President.
But, that now seems like a world away after recent events, says Shelagh as she read out a long list of things that have proved troublesome for the government.
"She's lost the Conservatives a majority in Parliament in that general election she didn't need to call," the LBC presenter said.
"Now in coalition with the DUP, she had to scrap various policies from the manifesto.
"There's side-line sniping from colleagues such as Boris Johnson, from Philip Hammond arguably, supposedly being negative on Brexit.
"The EU negotiations have been predictably tricky - do you remember the moment when she left the Summit and the remaining EU 27 discussed where they were going to go next and discussed how much support they needed to give her because she was such a weakened figure?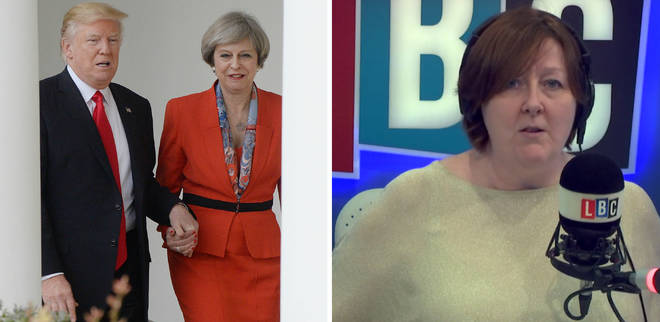 Shelagh continued: "The party conference coughing fit - that was just nature intervening… that was a very excruciating moment for her.
"Michael Fallon, the Defence Secretary had to resign in the light of recent sexual harassment allegations.
"Priti Patel is about to land in about an hours time in Heathrow, probably in all likelihood to be sacked over these meetings in Israel and there are other ministers with question marks over their heads."