"Boris' Best Characteristics Would Make Him An Unsuitable Prime Minister"
2 October 2018, 17:30 | Updated: 2 October 2018, 18:11
David Gauke dismisses the prospect of a change in Conservative leadership, saying that the idea of changing the Prime Minister so far into Brexit negotiations is "absurd".
The Justice Secretary couldn't deny Boris Johnson as "someone who attracts a crowd" when Shelagh put to him that the former Foreign Secretary was 'dominating' the Tory conference.
Hundreds of delegates queued for hours ahead of Mr Johnson's highly anticipated speech at the party conference where he called for the government to 'chuck Chequers'.
Speaking on LBC, David Gauke said that he did not think Mr Johnson was 'dominating'.
"Boris is always someone who attracts a crowd, some out of enthusiasm and some just out of curiosity," he said.
"But that is not enough to make you suitable to be Prime Minister, and it's not enough to set out a credible plan."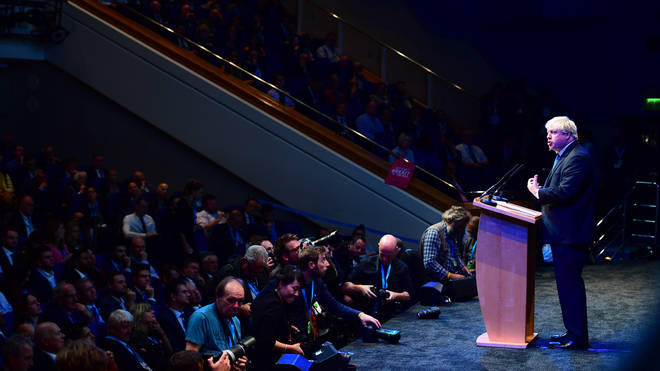 In his speech, Boris Johnson said it was a "total fantasy" that Britain could "bodge" Brexit now and then negotiate a better deal at a later date.
He said that the Prime Minister's Chequers proposal was "not what we voted for" and instead a recipe for "continued acrimony", as it would encourage calls for another vote, which he believes will be "disastrous for trust in politics".
"This is not pragmatic, it is not a compromise," he said.
"It is dangerous and unstable, politically and economically."
"My fellow Conservatives, this is not democracy, this is not what we voted for, this is an outrage.
"This is not taking back control, this is forfeiting control."