Lord Sugar Says Pro-Brexit Ministers Should Be Charged Over £350m NHS Claim
31 July 2017, 16:01 | Updated: 31 July 2017, 16:02
Lord Sugar has told LBC pro-Brexit ministers including Michael Gove and Boris Johnson should face criminal charges for "lying" to the public about leaving the European Union.
The Apprentice host blasted politicians from the Vote Leave campaign for "misleading" the public over the controversial "£350m-a-week for the NHS" bus.
In an almighty tirade, Lord Sugar told Shelagh Fogarty that many voters had been swayed by the promise which ultimately led to Britain voting to exit the bloc.
He fumed: "It should be a criminal offence when something as serious as that which is going to change the whole of the perception of the United Kingdom then it should be - simple as that."
During the referendum campaign Vote Leave claimed the EU was costing the UK £350m every week which could be money spent on the NHS.
Leading Brexit campaigners, including Mr Johnson and Mr Gove appeared beside the infamous red bus, but the pledge was dropped after Theresa May took over as Prime Minister.
Asked what the crime would be for politicians who didn't stick to their promises, Lord Sugar continued: "For misleading people and leading them into a bad decision that we shouldn't have left because they told lies."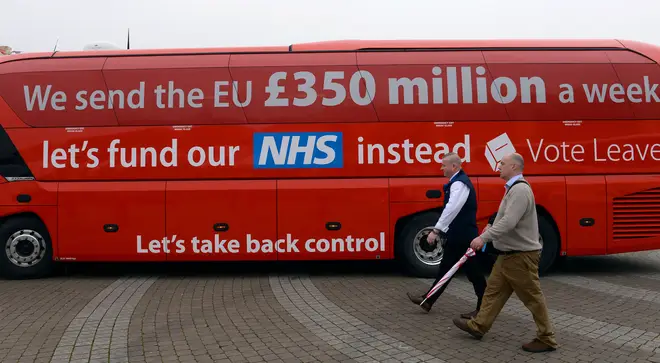 It wasn't just queries over Brexit that Lord Sugar took umbrage with.
He called on independent auditors to be appointed before a party can publish its manifesto after a row broke over whether Jeremy Corbyn had promised to wipe out student debt.
In an interview in the run-up to June's election, the Labour leader told NME magazine he would "deal" with the issue.
However, since the vote Mr Corbyn has insisted he never meant he would completely wipe up student debt.
It was "100 per cent a lie" Lord Sugar told LBC.
Listen to the interview above.