Monarch Pilot Told He Was Losing His Job Via A Premium-Rate Conference Call
4 October 2017, 15:25
A Monarch pilot has told LBC he only found out he was losing his job via a conference call, which was charged at premium rate.
Stuart said he had flown back late on Sunday night and was told to get into the office for an announcement a few hours later.
However, being fatigued from his shift, the pilot said those not able to make it in were told to dial into a conference call later that afternoon.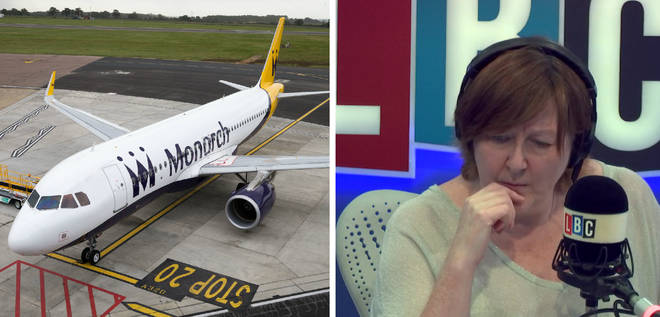 He said over 160 people dialled the number, which turned into a "long, laborious talk" about the airline's collapse and participants were unable to ask questions.
During the asthoshing converstation, the caller told Shelagh a number of his fellow colleagues since discovered they'd been charged between £30-£40 "for listening to a message to say we're effectively made redundant".
Stuart said: "That's around about £5,000 that someone has made out of it", adding: "We've been told we should expect something in the post but many of us haven't received any paperwork."
In response to the remarkable call, Monarch told LBC: "Having asked a third-party provider to set up a conference call for Monarch employees on the afternoon of our appointment, and agreeing to pay for that call facility, we have since been made aware that each of the participants was charged an additional sum by their phone company to join the call.
"We will ensure all participants are refunded any additional costs they incurred."