Rail Fare Rises: RMT Boss Lets Rip At "Failing" Chris Grayling
15 August 2018, 14:38 | Updated: 15 August 2018, 14:44
The assistant general secretary of the RMT union let rip at Chris Grayling after it was announced rail fares would increase by up to 3.2% in January.
Steve Hedley described the Transport Secretary as "failing Grayling" over his call for the rail industry to change the way it calculates fare hikes and staff wages.
Mr Grayling has asked train operators and unions to use the Consumer Prices Index (CPI), a lower inflation measure compared to the current Retail Prices Index (RPI) used.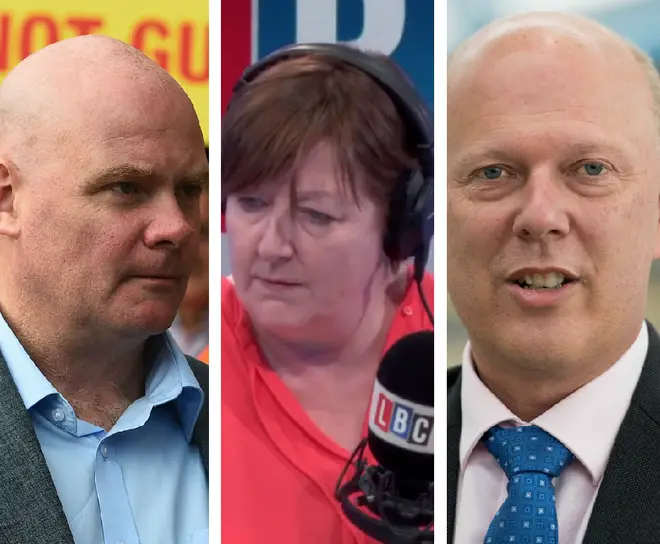 - Regulated rail fares to increase by maximum of 3.2% next year
But the RMT opposes the call, saying it was an attempt to impose a pay cap.
Giving his reaction on LBC, Mr Hedley certainly did not hold back.
He told Shelagh Fogarty: "We have Chris Grayling down there in Westminster giving himself and the other MPs - voting themselves - above inflation pay rises above, RPI every year while doing their second jobs, sitting on their backsides filling in their expenses forms every day.
"How dare they ask working people to pay for this?"
The rise in January affects about 40% of fares, including season tickets on most commuter routes, some off-peak return tickets on long-distance journeys and anytime tickets around major cities.
It means an annual season ticket from Brighton to London will go up by £150 to more than £4,800.