Shelagh Fogarty Meets The Most Die-Hard Jeremy Corbyn Fan Yet
26 September 2017, 16:13 | Updated: 26 September 2017, 18:12
"I pretty much just accept all that Jeremy Corbyn says", this incredibly passionate caller told Shelagh Fogarty as he tried to dodge questions on Labour's Brexit stance.
The LBC presenter said she would remember her conversation with Paul from Liverpool for a "very long time" after he declared his "love" for the Labour chief.
The Opposition's position on leaving the EU has been brought into question after Sadiq Khan hinted the party may back a second referendum.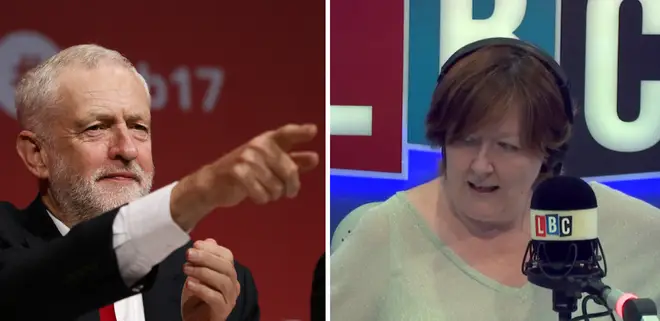 The London Mayor suggested he would press for a commitment to a further national vote on the final deal to be included in the next election manifesto during a speech at the party's conference.
This led Shelagh to ask Paul whether he was able to explain what Labour's Brexit position actually was.
But when pushed for an answer, the caller responded: "Do you know what? I pretty much just accept whatever Jeremy Corbyn says."
He continued: "He is an honest man, he is, that's what you and the mainstream media and the likes of Sadiq Khan are failing to grasp.
"We love the man, we will follow him through thick or thin. More and more people are joining Labour every single day - they've come over to Labour due to the fact he is a man of principles.
"And the mainstream media continue with this lie and discredit him but you failed at the General Election."
Watch the remarkable clip in full above.