Brexiteer Tries To Tell Shelagh Fogarty Elected MEPs Aren't Actually Elected
18 December 2017, 15:04 | Updated: 18 December 2017, 15:20
A passionate Brexiteer called LBC to try and convince Shelagh Fogarty that elected MEPs are actually "faceless, unelected bureaucrats".
Dave in Hounslow was speaking after a think tank proposed a post-Brexit trade deal based on the UK and EU sharing each others markets.
The centre-left IPPR's idea would see the UK and EU continuing regulatory alignment and form a new customs union similar to the existing one.
It would mean tariff-free trade would continue and the UK would benefit from EU trade, the IPPR said.
But, this caller wanted to take issue with the people representing Brits inside the European Parliament.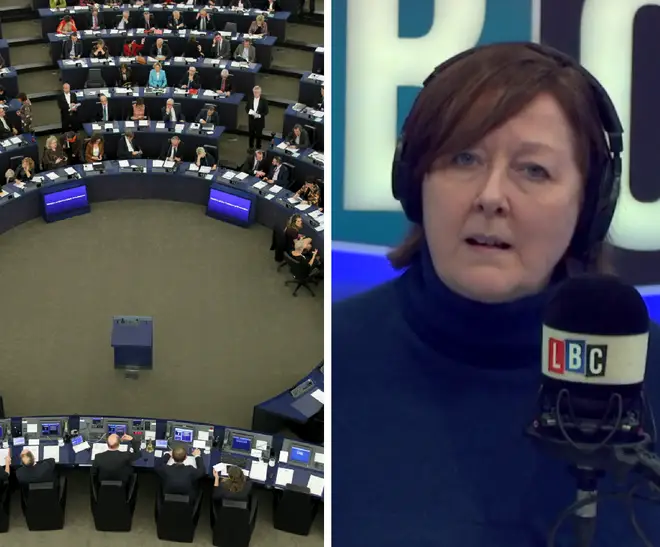 He attempted to argue that UK MEPs had not been elected by the people, despite the last European Parliament elections taking place in 2014.
Dave told Shelagh: "A lot of people don't know the difference between an MP and a MEP.
"The difference is one is an elected democrat, the other one is a faceless bureaucrat - do we want to be governed by those?"
Shelagh replied: "MEPs are elected."
To which the caller responded: "They're not elected by the people, they might be selected by a certain politician and they're lobbied by vested interests and corporations but they're not elected by the people."
Bemused, Shelagh once again said: "I've elected my MEPs over the years."
But this caller wasn't having any of it, doubling down, he hit back: "No MEPs aren't elected. MEPs haven't got any power first of all, MPs are directly elected by the people."