Shelagh Accuses Caller Of "Wallowing In Ignorance" Over Anti-Semitic Mural
26 March 2018, 14:39 | Updated: 26 March 2018, 18:11
When this caller repeatedly claimed to be too "un-racist" to know a controversial mural was anti-Semitic, Shelagh Fogarty accused him of "wallowing in ignorance".
The painting made headlines over the weekend after it emerged Jeremy Corbyn had questioned its removal back in 2012.
It depicts Jewish financiers playing a Monopoly board game on the backs of naked people, using the kind of imagery last seen in Nazi propaganda.
On the artist's post, the Labour leader responded: "Why? You are in good company. Rockerfeller [sic] destroyed Diego Viera's mural because it includes a picture of Lenin."
After he was asked for a comment on his remarks, his office responded with a statement reading: "I sincerely regret that I did not look more closely at the image I was commenting on."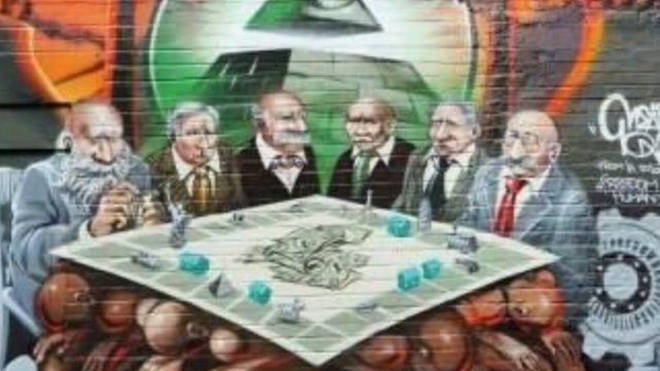 During an LBC phone-in, Shahid called Shelagh to argue that it was not clear to everybody that the mural was anti-semitic.
He said: "I was on the internet a few days ago and someone posted this image.
"Just like Jeremy Corbyn probably done, I didn't even bother to look at the text.
"I am so un-racist I would not have known what that image was referring to at all without somebody pointing out what the problem was."
Shelagh asked whether that was because of the caller's "lack of knowledge" on how the Nazis depicted Jews back in the 1930s.
When Shahid ciited poor education at school, the LBC presenter replied: "Well that's bad, go do your own research then!"
But Shahid doubled down on his remarks, once again claiming he was "so un-racist" to know what at it meant.
And as the call rumbled on, Shelagh exclaimed: "You shouldn't celebrate your ignorance.
"I am concerned that you seem to be wallowing in your ignorance."