Syria Chemical Attack: US General Warns "War Is On The Horizon"
9 April 2018, 16:01 | Updated: 9 April 2018, 17:09
The former vice chief of staff of the US Army has warned "war is on the horizon" following a suspected chemical weapons attack which killed dozens of people in Syria.
General Jack Keane, who advised George W Bush over Iraq, said there is "no political solution" as he called for allied forces to launch precision strikes against the Syrian President's airforce.
Theresa May has said Bashar Assad's regime and its backers, including Russia, must be "held to account" if the Syrian government is found responsible for the attack in Douma.
Donald Trump warned there would be a "big price to pay".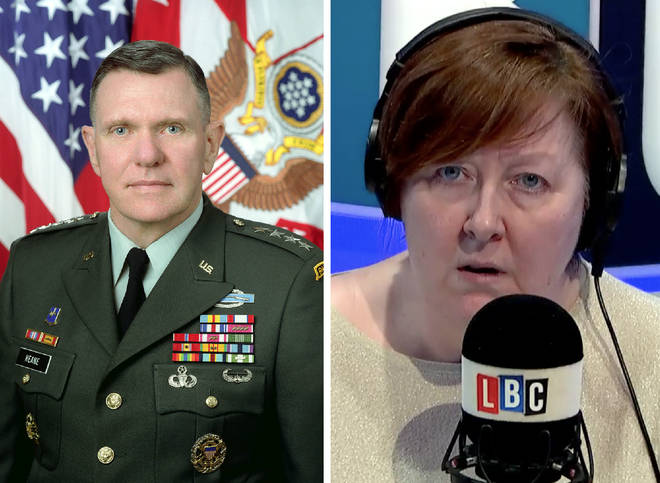 Speaking to Shelagh Fogarty, General Keane painted a stark picture of how recents events could trigger a potential conflict in the Middle East.
"War is on the horizon here because of Russian and Iranian actions in Syria," he warned.
"Particularly the Iranians who have significantly regional geo-political ambitions to dominate and control the Middle East."
Asked what kind of war, General Keane continued: "A war with Israel and Lebanon and Hezbollah and potentially the Iranians themselves.
"The Iranians, of course, use their proxies quite effectively and never bring their own conventional military forces into conflicts.
"So they would try to stay out of it as much as they possibly can and let their proxies, Hezbollah, do the fighting with the Israelis as they have done a number of years ago."
Watch his remarks in full at the top of this page.