Lord Adonis' Demolition Of Chris Grayling Is Devastating
6 February 2018, 11:43 | Updated: 6 February 2018, 12:24
Lord Adonis accused Chris Grayling of being "monstrous" and "heartless" as the row over the East Coast Mainline escalated.
The Transport Minister bailed out Stagecoach, one of the biggest companies in the country, after it said it couldn't make payments on the troubled rail franchise.
Lord Adonis, a former Transport Minister himself, accused Mr Grayling of making the wrong choices, simply because he didn't want Jeremy Corbyn to look good.
In a devastating attack on LBC, he told James O'Brien: "It doesn't matter whether you are left-wing or right-wing, it's about doing your job properly.
"The right thing for Chris Grayling to have done is to set up a state company to take over these services when the private sector reneges on its contract and walks away.
"The reason Chris Grayling wouldn't do that, which is the reason he has done all these bailouts, is because he doesn't want to be seen to give a point to Jeremy Corbyn on the question of public ownership. Even when, on a pragmatic value-for-money basis, it was the right thing to do. It would save money for the taxpayer.
"The reason he won't do it is because he has a right-wing ideologue who doesn't want to give a point to Jeremy Corbyn. And this is the same Chris Grayling who is an ardent Brexiter. It's all part of a world view."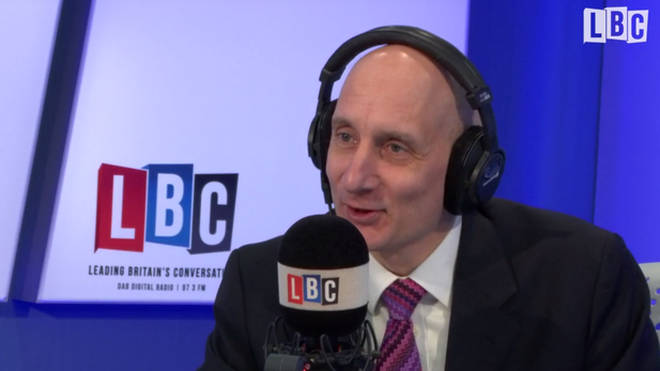 When James questioned whether he was right about Grayling being driven by ideological policies as opposed to rank incompetence, Lord Adonis got really savage.
He said: "The reason he made a mess of Justice as the same ideologies. The first thing he did was to privatise the Probation Service, which was a monstrous thing to do, when there was no successful private operator who could take it over.
"So what he essentially did was to destroy the Probation Service.
"He is also the guy who did was is possibly the most heartless thing any minister has ever done in the last generation, which was to ban prisoners from having books.
"The reason he did that was to appeal to the right wing of the Conservative Party, who think you should put people in a cell and throw away the key.
"So unfortunately, there is a world view there. The problem is, it's a terrible world view."