The Ex-Prisoner Turned Charity Volunteer Who Is Facing Deportation
15 October 2018, 13:36 | Updated: 15 October 2018, 13:45
A former prisoner turned charity volunteer who has lived in England for more than 20 years is facing deportation.
Hilary Ineomo-Marcus moved to Brixton from Nigeria back in 1995 when he was 10-years old.
He was granted leave to remain in the early 2000s, but in 2013 he was jailed for a tax offence.
The 33-year-old served 15 months in prison - but is now facing deportation by the Home Office.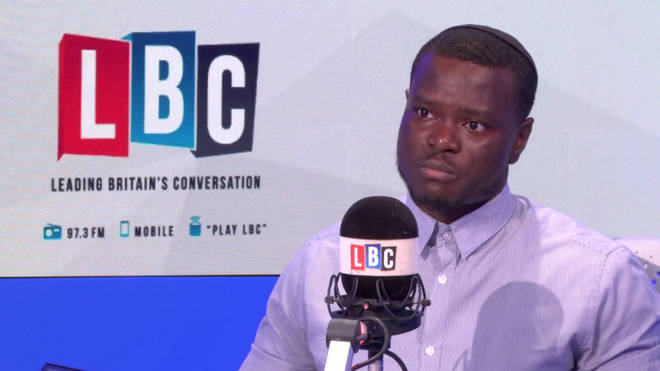 Under UK law a foreign national is subject to deportation if they have been imprisoned for 12 months or more.
During his time inside and since his release, Mr Ineomo-Marcus has been praised for his contributions to prison reform and the rehabilitation of prisoners.
He now volunteers for various charities in an effort to deter youngsters from offending.
Speaking to James O'Brien on Monday, he described how the ordeal was impacting on his health.
"I'm constantly on the edge," he said.
"I've got high blood pressure, I'm anxious, I'm on three sets of medication."
Mr Ineomo-Marcus remains on immigration bail which requires him to regularly report to the Home Office.
He hopes by telling his story he will invoke the support of the British public.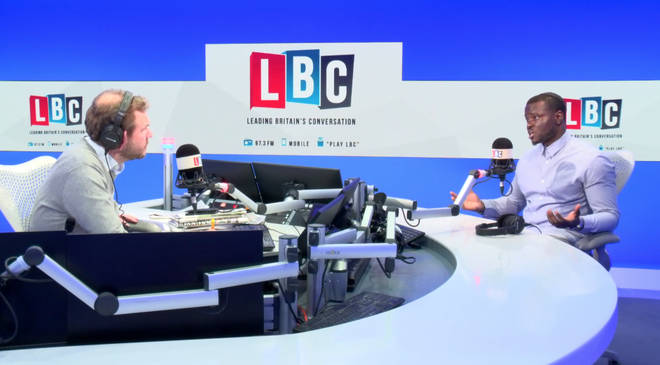 "We've always been a country that gives people as many opportunities as possible in life until they get it right," he continued.
"I've made one mistake my whole life and I'll plead that I'm not punished, and neither is my family, for eternity, twice, because I've already been punished through the justice system."
A Home Office spokesperson said: "All foreign nationals who are given a custodial sentence will be considered for removal and any foreign criminal who is sentenced to 12 months or more imprisonment must automatically be subject to a deportation order under the UK Borders Act 2007.
"Foreign nationals who abuse our hospitality by committing crimes in the UK should be in no doubt of our determination to deport them and we have removed more than 44,500 foreign offenders since 2010."
Watch the interview above for more on this story.