Paloma Faith says the Ukrainian mothers facing 'crisis' inspired her to visit refugees in Poland
27 February 2023, 14:53
Paloma Faith discusses her trip to visit Ukrainian refugees in Poland
Paloma Faith told LBC that after seeing Ukrainian mothers fleeing the country on the news, she was inspired to visit Poland to see how British donations were being spent.
British singer Paloma Faith told James O'Brien that Ukrainian mothers she saw on the news inspired her to visit Poland so she could "see first-hand" how British donations were being used to help refugee communities.
To commemorate a year since Russia invaded Ukraine, the singer embarked on a trip to Poland to "find out what happens next", citing concerns that people donate money but "don't know where it goes".
She said: "I saw first-hand how that money is being spent and how brilliantly it's being used."
The 41-year-old artist took part in the Concert for Ukraine in Birmingham last year which raised over £13.4 million for Ukraine.
The appeal, which was televised on ITV, raised money for the Disasters Emergency Committee's (DEC) Ukraine Humanitarian Appeal and featured performances from a star-studded lineup including Faith, Ed Sheeran and Camila Cabello.
READ MORE: Concert for Ukraine: Ed Sheeran and Camila Cabello help raise £12m
The money raised by the concert was the biggest campaign in financial support that the DEC has ever received, Paloma shared.
She added that after charities are presented with the immediate necessities of food and shelter "there is still so much that needs to be done".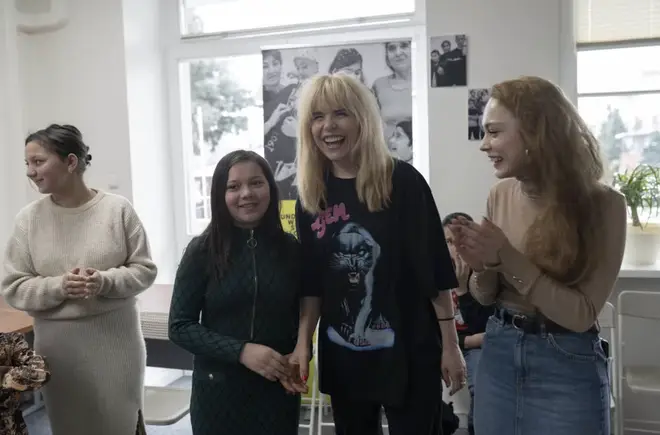 "All these women were evacuated alone without their children's fathers and they're sort of left to make these huge decisions about educating their children, and finding a new way to remain with their community", she explained.
"They want to be in Ukraine", Paloma continued.
After James asked about her motivations to make the trip, she expressed: "I'm a mother and the reportage on the news was all these women alone with their kids."
She described meeting a mother of 6 who had travelled with her children alone and was forced to make a trip back to the war zone with her children.
In admiration of the brave mother, she said: "I mean I struggle on a daily basis with my two."
"It's these insane levels of crisis and dilemma and the post-trauma... There were a lot of very tearful women dealing with postpartum sadness."
The mother-of-two highlighted that there were "brilliant things being done with the money" raised through the concert, including a Roma community centre, temporary housing and a school.
"What I took away from it was so much gratitude from the people who the fundraising has helped," she shared.
Paloma described how it was "harrowing" to speak to refugees who were "incredulous" about the huge support offered by people in the UK.
Whilst acknowledging that not everyone is able to "get on a plane and go to Poland", she encouraged Brits to "make people feel welcome" and have "empathy" for those around us.
She added: "It's not just about financial help, but emotional help, [and] support, making people feel welcome."
READ MORE: London crowds mark first anniversary of Russian invasion of Ukraine with appearances by Helen Mirren and Ben Wallace
READ MORE: Nation falls silent for Ukraine: UK in display of solidarity one year on from Russian invasion