Caller Angry At EU's Response To Catalonia Can't Answer James' Simple Questions
3 October 2017, 14:02 | Updated: 3 October 2017, 14:27
This caller thinks the European Union should spoken out about the shocking violence in Catalonia on Sunday, but stumbled when asked a simple question by James O'Brien.
Almost 900 people were hurt over the weekend when Spanish police attempted to stop citizens voting in an independence referendum, declared illegal by the Madrid government.
The EU has come under fire for its failure to condemn the brutality used by officers, with Nigel Farage launching a scathing attack on the bloc.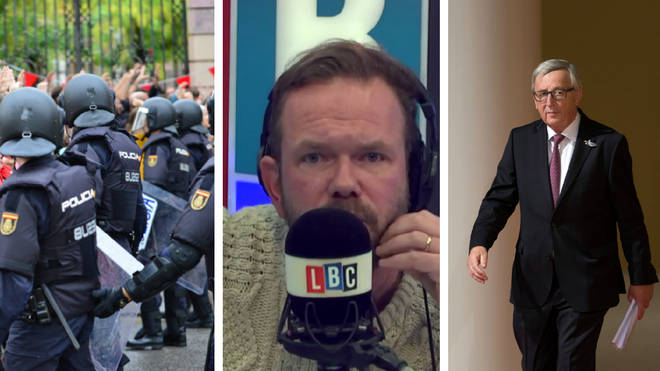 Speaking in the EU Parliament in Strasbourg on Tuesday, he thundered "I've called the European Union undemocratic, I've called it anti-democratic, but never, ever in my fiercest criticisms here did I think we would see the police of a member state of the union injuring 900 people in an attempt to stop them going out to vote."
Annie in Edinburgh called LBC because she too was not happy with the way it had been handled by the EU.
However, when James asked her when the last time the EU ever criticised the policing tactics of a member state that were within the laws of a member state, the caller struggled to stump up an answer.
After a number of attempts at an answer, Annie eventually conceded, telling the LBC presenter the bloc hasn't intervened before and didn't know why they hadn't.
So James offered to help the call out, telling Annie: "Because they are not allowed to".
Watch the entertaining clash above.